A Level English Literature
AOL506
This A Level qualification is a must for all bookworms. If you are an avid book reader and find it difficult to switch the light off at the end of a chapter, then look no further, particularly if you need a suitable qualification to progress to University. You can be assured of an excellent learning experience and a transferrable qualification to add to your CV.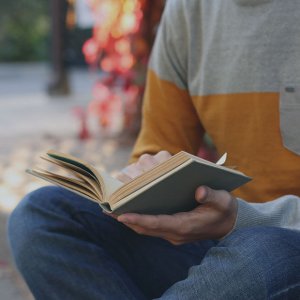 A Level English Literature
Flexible study options
Choose a study format
Choose a way to pay
A Level English Literature
Choose enrol option
About This Course
From exploring the classical prose of Shakespeare and his comedies, to analysing the works of Oscar Wilde, William Sieghart, T.S. Eliot, Mary Shelley and Emily Bronte; our A Level in English Literature can teach you how to successfully interpret these popular pieces of work and create convincing arguments about why they were written the way they were.
Whether your interest stems from a love of reading or you hope to become a librarian or a teacher; the skills you'll acquire on this A Level can form the perfect foundation for developing your written and analytical skills. In fact, our distance learning course is perfect for anyone who has got a passion for writing, as beyond analysing the environment/issues that may have influenced their style; it will also help to improve your own writing abilities.
This course has been updated to meet the latest academic specifications and content, meaning whilst it may be a home based study, you will receive the exact same course materials, coursework and examinations as you would if you'd gone to college.
The only difference is, you will be in complete control of how, when and where you study. You can easily mould our course to fit around your existing work commitments, whilst also benefiting from the flexibility of being able to choose when you take your exams.
In other words, as long as you complete this course within 2 years of your enrolment, you can study as fast or as slow as you want. The pace you set is up to you.
Course Benefits
Tailored for home use, by the end of this course you will walk away with the exact same skills, literary knowledge and understanding as your college equivalents.
Every component of this A Level course is designed to broaden your mind; test your interpretative skills and engage your creative processes.
By doing so you will acquire the analytical skills and know-how to apply this 'think outside of the box' attitude onto other facets of your life, as well as to your practical work and studies.
This course will:
Earn you up to 56 UCAS points that can be used within your university applications.
Allow you to study on your own terms and at a pace of your choosing.
Allow you to pick when you take your exams, ensuring you're always ready and prepared.
Challenge your literary skills by opening your mind and testing your ability to seek hidden meaning within prose and poetry.
Course Units
Qualification Title: A-Level English Literature
Qualification Number: 9ET0
UCAS Points: Up to 56
Component 1: Drama
 Twelfth Night by William Shakespeare
The Importance of Being Earnest by Oscar Wilde
Shakespeare: A Critical Anthology- Comedy by William Shakespeare
Component 2: Prose
Frankenstein by Mary Shelley
The Handmaid's Tale by Margaret Atwood
Component 3: Poetry
T.S. Eliot, Selected Poems (Faber, 2009)
William Sieghart, ed., Poems of the Decade: An Anthology of the Forward Books of Poetry 2002-2011 (Faber and Faber, 2015)
Coursework Component:
Wuthering Heights by Emily Brontë
The Bloody Chamber by Angela Carter
Assessment
To earn this A Level qualification you will first complete the assessments included in your course materials.  These will be marked by your dedicated tutor and will prepare you for your exam.
You are required to complete three standard written exams:
Paper 1: 2 hour written exam, 30% of total marks – 24 May 2024
Paper 2: 1 hour and 15 minutes, 20% of total qualification – 5 June 2024
Paper 3: 2 hours and 15 minutes, 30% of total qualification – 14 June 2024
(all dates are subject to change)
There is a separate fee for the examinations, which are paid directly to the exam centre at time of booking. We'll help you book your exams when you are ready (we advise to book well in advance to guarantee your place).
Please note: the dates shown above are the next available exam slots only (exams take place every year).
Required Knowledge
There is no requirement to have past qualifications or knowledge of the area to enrol on this course.
You will also need to borrow/purchase all of the titles listed within the 'Modules' section, as they are essential to your studies.
Awarding Body
Upon completion of this course you will receive an A Level in English Literature issued by Edexcel.
UCAS
Your final result on the A Level will be converted to UCAS points. You can achieve up to 56 UCAS points per A Level, which can be combined for university applications. We highly recommend participating in the tutor-marked assessments in order to receive an accurate predicted grade for your UCAS application.
Support
From the moment you enrol onto this A Level Literature course, you will have 2 years to complete your studies. To support and mentor you during this period, you will receive your very own personal tutor who will always be on hand to lend you advice, guidance and instruction.
In addition, you can readily access the help of our student support team who at a click of a button can happily answer your queries.
Alongside the continuous support of our tutors, you'll also receive a comprehensive study guide, course materials and a course pack containing self-assessment exercises and tutor marked questions which can help to track your progression as your skills develop.
Frequently Asked Questions
Why learn with us?
Trusted and regulated
Study A Levels, GCSEs, Qualifications, and Endorsed Courses
Money-back guarantee
14-day money-back guarantee (terms apply)
Flexible, simple learning
Study at your own pace in your own space, without pressure
Personal expert support
Full 1-2-1 tutor support on all courses every step of the way
Price-matched courses
We guarantee to match prices (plus 5% extra off on top)
Dedicated support
We are open 9am–10pm, 7 days a week, to help our learners
Independantly accredited
Our courses are accredited by independent awarding bodies
0% finance
Get 0% finance on many of our courses
Free business course
Free business start-up short course with every purchase