Editing and Proofreading Diploma Level 3
AOL939
Behind every great writer there is an even greater editor and proof reader. This course gives you the skills you need to work in the publishing industry making sure the great works of tomorrow are fit to print, or to work as a freelance proofer and editor from home.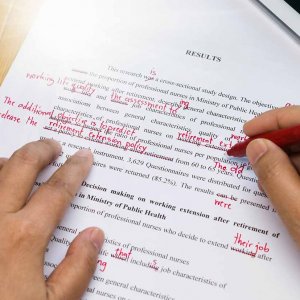 Editing and Proofreading Diploma Level 3
Flexible ways to pay
Editing and Proofreading Diploma Level 3
Choose enrol option
About This Course
Do you dream of working in publishing and helping aspiring authors to publish their work? Or do you dream of becoming of your own boss and using your natural writing skills to become a freelance editor or proof reader? No matter your career aspirations, our Editing and Proofreading Level 3 course can help you to delve into this world and create a strong foundation to build from.
Designed for home study, this incredible course can make a fantastic difference to your career choices. From helping you to understand and identify different types of editing (and how to approach them), to discovering how to proofread different types of copy; you can uncover what it means to work as a freelance editor or proof reader, and ensure that you never get confused between editing and proofreading.
More importantly, you learn how to edit text; identify common punctuation and grammar mistakes, and ensure that it is appropriate for the targeted audience.
This course takes just one year to complete, yet you can easily fit it around your current work obligations and achieve a healthy work-study balance. You can choose when, where and how you study, and do it all from the comfort of your own home.
Course Benefits
Split into 4 units, this unique course is a great addition to your CV. Alongside helping to boost your editing and proofreading skills; by the end of this course you will have a thorough knowledge and comprehension of how to apply these newly acquired skills within a practical setting, as well as be equipped to face the many challenges professional editors have to deal with on a daily basis.
With this course, you will:
Be able to study on your own terms – free of deadlines, stress and pressure.
Have your course materials delivered straight to your home or inbox, offering you a convenient way to study.
Boost your literature skills and credentials.
Broaden your career prospects, allowing you to work within a publishing environment or as your own boss.
Course Units
Unit 1: Introduction to proofreading
Unit 2: Errors involving nouns and adjectives
Unit 3: Grammar and Punctuation
Unit 4: Style and formatting
Assessment
This course is assessed using a series of written assignments that will test your knowledge of the syllabus. You will also be expected to complete a final assignment where you will be asked to edit a 1,500 word (approx.) text. These will all need to be submitted to and marked by your personal tutor, who will supply helpful tips and feedback.
No external examinations are required.
Required Knowledge
No prior knowledge, skills or experience is needed to enrol onto this course.
Awarding Body
To enable you to understand the concepts of the course, you will be provided with all of the learning materials at the outset, these will be posted to you or sent by email depending on your choice of study method.
Upon successful completion of this course, you will receive certification from National Institution of Qualifications (NIOQ) and a Learner Unit Summary (which details of all the units you have completed).
This course has been designed to meet the requirements of specific learners or employers. It is endorsed by National Institution of Qualifications, meaning the course has undergone external quality checks to ensure that they are maintained and delivered to an excellent standard.
National Institution of Qualifications are a national certificating organisation. Endorsement of our courses ensures learners have access to high quality materials that cover all learning outcomes, helping them to achieve their potential.
Support
From the moment you enrol onto this course, you will receive the highest standard of care and support. We take pride in helping our students to flourish, so whilst this course may be designed for home study, you will never be alone.
Instead, you will be able to harness our comprehensive course materials and study guides, and access our student support team as and when you need them.
Similarly, our personal tutors consist of industry specialists, who at a click of a button can advise, instruct and influence your studies. Their feedback on your assignments can prove especially beneficial, as their tips can be used to boost your course grades.
Frequently Asked Questions
Happy learners who completed this course
Editing and Proofreading Diploma Level 3
The units explain everything t ...
The units explain everything that will be contained within the course, it is extremely in depth with nothing left unturned. Easy to understand and comprehensive.
This course has helped in beco ...
This course has helped in becoming a self employed proofreader. Being able to offer services to a broad depth of client is rewarding financially, but there is also an enjoyment and pride in fixing something that was once wrong. Thank you for the continued support and high end course.
Why learn with us?
Trusted and regulated
Study A Levels, GCSEs, Qualifications, and Endorsed Courses
Money-back guarantee
14-day money-back guarantee (terms apply)
Flexible, simple learning
Study at your own pace in your own space, without pressure
Personal expert support
Full 1-2-1 tutor support on all courses every step of the way
Price-matched courses
We guarantee to match prices (plus 5% extra off on top)
Dedicated support
We are open 9am–10pm, 7 days a week, to help our learners
Independantly accredited
Our courses are accredited by independent awarding bodies
0% finance
Get 0% finance on many of our courses
Free business course
Free business start-up short course with every purchase