Forensic Science Diploma Level 3
AOL117
Forensic science involves using psychology, criminology and sociology as well as the physical and biological sciences to better understand how crimes have been committed, and of course to identify and apprehend those responsible. The level 3 Certification you will gain is an excellent first step in this exciting career.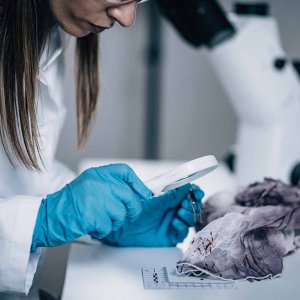 Forensic Science Diploma Level 3
Flexible study options
Choose a study format
Choose a way to pay
Forensic Science Diploma Level 3
Choose enrol option
About This Course
Delving into the world of forensic science can be both a rewarding and fascinating experience. By being able to understand the scientific, psychological, criminological and social aspects of a crime, you can make your mark in this field and make a real difference to criminal investigations.
In fact, our Forensic Science Level 3 endorsed course can introduce you to a variety of fields and topics within forensic science, as well as help you to achieve a breadth of criminology knowledge that will enable you to interpret and validate scientific findings.
From understanding the role of forensic scientists and how scientific methods and processes are just a fragment of the skills you'll use during an investigation, to studying killing and psychopathy in the context of forensic investigations; by the end of this 1 year intense course you'll be more than equipped to take your next step up the educational ladder.
All that is needed is just 80 hours of learning time, and on your own terms, to greatly improve your CV. No classrooms or examinations are required. Instead you can study from the comfort of your own home; at your own pace and gain a sound understanding of victimology and psychological explanation of crime.
And this is great news if you are taking your first steps back into education, as by allowing you to study from home, you can easily fit your studies around your current work commitments.
Course Benefits
In 6 units you will delve deep into the world of forensic science, all whilst developing a keen understanding of what is expected should you choose to work in this fast paced field.
From discovering how suspects are interviewed and interrogated, to learning the various different scientific approaches used to analyse a crime scene; by the end of this course you will have achieved a deeper and more thorough knowledge of forensics. At the same time you will be given the opportunity to demonstrate your competency of the theoretical knowledge and its application within the real world.
This course will:
Enable you to learn on your own time, on your own terms and from the comfort of your own home.
Free you from examinations and deadlines.
Give your career kick start it deserves.
Allow you to develop your knowledge, comprehension and understanding on all elements of forensic science.
Course Units
Unit 1: Principles and Applications of Science
The Electronic Structure of Atoms
Production and Uses of Substances in Relation to Properties
Structure and Functions of Cells and Tissues
Waves in Communication
Unit 2: Practical Scientific Procedures and Techniques
Types of Laboratory Equipment in Forensic Analysis
Preparation and standardisation of solutions
Chromatographic Techniques
Unit 3: Science Investigation Skills
Planning a Scientific Investigation Hypothesis
Selection of Equipment, Techniques and Procedures
Collection and Analysis of Data
Plants and their Environment – Factors that can affect growth
Unit 4: Forensic Investigation Procedures in Practice
The Role of the Crime Scene Investigation Team
Health and Safety at a Crime Scene
Choosing Analytical Techniques for Evidence Analysis
Unit 5: Applications of Criminology
Principles of Criminology
Strain Theory
Public Policy
Personal Profiling
Unit 6: Criminal Investigation Procedures in Practice
Policing criminal investigations
The Involvement of Forensic Investigators
The Crown Prosecution Service (CPS)
Unit 7: Applications of Criminal and Forensic Psychology
Theories of Criminology
Crime Prevention Techniques
Victims of Crime and Victimology
Unit 8: Physiology of Human Body Systems
The Connection Between Physiology and Forensic Science
Musculoskeletal, lymphatic, digestive System
Chemical Composition of the human Body
Forensic Pathology and post-mortem
Assessment
This course is assessed using a series of written assignments that are designed to test your knowledge and interpretation of the course materials supplied. These assignments will need to be submitted to your personal tutor for marking.
No external examinations are required.
Required Knowledge
No prior knowledge or experience within forensic science is needed in order to enrol onto this course, meaning you can take your natural interest in this subject and use the skills you've acquired to take your first steps into this world.
Awarding Body
Upon successful completion of this course, you will receive certification from National Institution of Qualifications (NIOQ).
This course has been designed to meet the requirements of specific learners or employers. It is endorsed by National Institution of Qualifications, meaning the course has undergone external quality checks to ensure that they are maintained and delivered to an excellent standard.
National Institution of Qualifications are a national certificating organisation. Endorsement of our courses ensures learners have access to high quality materials that cover all learning outcomes, helping them to achieve their potential.
Support
We may specialise in the provision of distance learning courses; however, at every opportunity we will endeavour to ensure that you always feel supported. From the guidance of our personal tutors who will use their expertise in this field to offer you valuable tips and feedback, to our student support team who will always be on hand to answer your questions; at no point in your studies will you ever be alone.
In the event you should need assistance with your assignments or have a question about the course; you can feel confident that they'll always be ready, willing and able to answer your questions.
Frequently Asked Questions
Why learn with us?
Trusted and regulated
Study A Levels, GCSEs, Qualifications, and Endorsed Courses
Money-back guarantee
14-day money-back guarantee (terms apply)
Flexible, simple learning
Study at your own pace in your own space, without pressure
Personal expert support
Full 1-2-1 tutor support on all courses every step of the way
Price-matched courses
We guarantee to match prices (plus 5% extra off on top)
Dedicated support
We are open 9am–10pm, 7 days a week, to help our learners
Independantly accredited
Our courses are accredited by independent awarding bodies
0% finance
Get 0% finance on many of our courses
Free business course
Free business start-up short course with every purchase