A Level Biology
AOL501
This fascination and engaging A-Level qualification will allow you to explore the subject area in great depth from the comfort of your own home. You will be able to follow the very latest academic syllabus and upon successful completion, you will gain 56 valuable
UCAS points to add to your CV in consideration of further study or progression into a work-related area.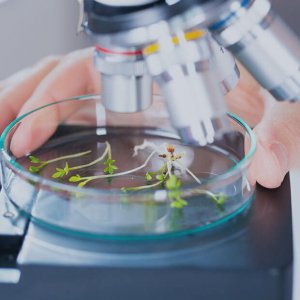 A Level Biology
Flexible ways to pay
A Level Biology
Choose enrol option
About This Course
Imagine being able to study the courses you want without having to enrol at college or attend any classes. Our distance learning A Level Biology course can provide you with the EXACT same knowledge, training and qualifications that you'd receive on a college course; however you can benefit from the immediate advantages of being able to study from the comfort of your home.
No pressure. No stress. No set deadlines. You can study on your own terms and easily fit our course around your current work or social commitments.
All we ask is that you complete our written and practical assignments within 2 years of your registration. Aside from that you can pick when, where and how you study and can even choose when you take your exams!
This distance learning course covers the entire scope of biology exploring everything from DNA, biological molecules and cell structure, to the way organisms exchange substances with their environment; ecosystems and gene expression.
A Level Biology is highly respected by universities and employers alike, opening doors to a vast range of careers in the natural sciences.
Within 8 concise topics you can truly uncover the tools to broadening your biological knowledge and learn how to apply them within a practical setting.
Course Benefits
This course is designed to develop both your theoretical and practical knowledge in preparation for further education or work within a science orientated field. By completing this course and exams, you can gain up to 56 UCAS points which can contribute significantly to your university applications.
However, unlike traditional A Levels where you must sit your examinations at a set time; you can decide when you are ready to take them so you are always prepared.
This course will:
Broaden your practical and theoretical knowledge and understanding of biology
Prepare you for university studies within a scientific field
Provide you with valuable UCAS points
Meet the latest academic specifications and contains the most up to date academic content
Course Units
Qualification Title: A-Level Biology
Qualification Number: 7402
UCAS Points: Up to 56
Topic 1: Biological Molecules
Monomers and Polymers
Carbohydrates
Lipids
Proteins
Many Proteins are Enzymes
Nucleic Acids are Important Information-carrying Molecules
ATP
Water
Inorganic Ions
Topic 2: Cells
Cell Structure
Cell Recognition
Transport across Cell Membranes
The Immune System
Topic 3: Organisms Exchange Substances with their Environment
Surface Area to Volume Ratio
Gas Exchange
Digestion and Absorption
Mass Transport
Topic 4: Genetic Information, Variation and Relationships between Organisms
DNA, Genes, and Chromosomes
DNA and Protein Synthesis
Mutation
Genetic Diversity and Adaptation
Species and Taxonomy
Biodiversity within a Community
Investigating Diversity
Topic 5: Energy Transfer In and Between Organisms
Photosynthesis
Respiration
Energy and Ecosystems
Nutrient Cycles
Topic 6: Organisms Respond to Changes in their Internal and External Environments
Stimuli, both Internal and External
Nervous Coordination
Skeletal Muscles
Homeostasis
Topic 7: Genetics, Population, Evolution and Ecosystems
Inheritance
Populations
Evolution may lead to Specification
Populations in Ecosystems
Topic 8: The Control of Gene Expression
DNA and the Structure of Proteins
Gene Expression
Using Genome Projects
Gene Technologies
Organism Function
Design of new Industrial and Medical Processes
Assessment
To earn this A Level qualification you will first complete the assessments included in your course materials.  These will be marked by your dedicated tutor and will prepare you for your exam, whilst giving you a predicted grade that you can use for your UCAS application.
You are required to complete three standard written exams and one submitted practical.
Paper 1: 2 hour written exam, worth 35% of total marks – 5 June 2024
Paper 2: 2 hour written exam, worth 35% of total marks – 14 June 2024
Paper 3: 2 hour written exam, worth 30% of total marks – 19 June 2024
Practical (non-exam): Submit by 15 May 2024
(all dates are subject to change)
There is a separate fee for the examinations, which are paid directly to the exam centre at time of booking. We'll help you book your exams and practical assessment when you are ready (we advise to book well in advance to guarantee your place).
Please note: the dates shown above are the next available exam slots only (exams take place yearly).
Required Knowledge
There are no entry requirements for this course.
Awarding Body
Upon completion of our course assessments and assignments, you will receive an AQA accredited A Level in Biology which can be used to further your study of Biology at university level.
It is possible for students to receive the A Level Biology qualification without completing their practical assessment; although it is important to note that your certificate will state that you have not done it. As a result, its absence could harm your chances of securing a university place or a job.
Please also note that 15% of your written exam marks rely on you having knowledge of these practical skills. As such, we strongly recommend completing the entire course – both the written and the practical elements of the course – in order to maximise your study and career opportunities.
Support
From the moment you enrol onto this course we will send you – via post or by email – a comprehensive study guide and a complete course pack, including self-assessment exercises and tutor marked study questions.
Our tutors are just a click away and will always be hand to lend support and advice throughout the progression of your studies.
Through their monitoring and guidance, they can assist you with your exam preparation and ensure you are fully prepared for every eventuality.
Frequently Asked Questions
Happy learners who completed this course
A Level Biology
Enjoying the course, good stro ...
Enjoying the course, good strong feedback to work from and looking forward to my exams (feeling prepared, which I did not during school years).
Completing this course has pre ...
Completing this course has prepared me to take my A Level exam, i feel very confident this will help me pass.
Why learn with us?
Trusted and regulated
Study A Levels, GCSEs, Qualifications, and Endorsed Courses
Money-back guarantee
14-day money-back guarantee (terms apply)
Flexible, simple learning
Study at your own pace in your own space, without pressure
Personal expert support
Full 1-2-1 tutor support on all courses every step of the way
Price-matched courses
We guarantee to match prices (plus 5% extra off on top)
Dedicated support
We are open 9am–10pm, 7 days a week, to help our learners
Independantly accredited
Our courses are accredited by independent awarding bodies
0% finance
Get 0% finance on many of our courses
Free business course
Free business start-up short course with every purchase