A Level Accounting
AOL500
Are you considering you options for your working life? If you are good with figures and excel at maths, a career working in an Accounts Department can be extremely worthwhile and rewarding. Or, do you require an A Level to help you get into the University of your choice? Whatever your consideration, we have just the qualification you need to progress with your life decisions.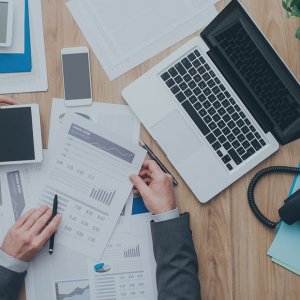 A Level Accounting
Flexible study options
Choose a study format
Choose a way to pay
A Level Accounting
Choose enrol option
About This Course
Our A Level Accounting course is the perfect stepping stone for anyone wishing to build a credible career within accountancy, as it allows you to achieve the perfect balance of study and work.
Not only has our course been updated to meet the latest academic specifications, but it can be completed in your own time, at your own pace and all from the comfort of your own home, meaning there is no need to sign up to college or reduce your working hours!
From recording financial data, balance sheets and accounting concepts, to accounting standing, ratio analysis and partnership accounts; our online course will guide you through the various elements of accounting and can supply you with a solid foundation upon which to broaden your understanding.
More importantly, with this course you'll gain up to 56 UCAS points which can be used to land your dream spot at university!
However, you won't have to contend with any strict deadlines. Instead of being weighed down with stress, assignments and set exam dates; you can pick and choose when to take your exams, meaning you can easily fit your studies around your existing work commitments.
In other words – you can take your exams when YOU are ready.
Course Benefits
Our A Level Accounting course is designed to be flexible and adaptable, enabling you to remain in control of your studies and progression throughout its 2 year duration. By eliminating exam deadlines, you can ensure you are fully prepared to take the exam and do so on your own terms.
In addition, this course will test your knowledge, understanding and comprehension, so even if you choose not to take your studies to university level, you'll be able to confidently handle your own financials.
Course Units
Qualification Title: A-Level Accounting
Qualification Number: 7127
UCAS Points: Up to 56
Unit 1: Introduction to Financial Accounting
The role of the accountant in business
Types of business organisation
The double entry model
Verification of accounting records
Accounting concepts used in the preparation of accounting records
Unit 2: Introduction to Financial Statements
Preparation of financial statement for sole traders
Partnership accounts
The implications of ethical considerations
Unit 3: Introduction to Management Accounting
Budgeting
Marginal costing
Standard costing and variance analysis
Absorption and activity-based costing
Unit 4: Financial Statements for Limited Companies
Limited company accounts
Accounting for limited companies
Unit 5: Analysing and Interpreting Financial Information
Analysis and evaluation of financial information
Capital investment appraisal
Interpretation, analysis and communication of accounting information
Assessment
To earn this A Level qualification you will first complete the assessments included in your course materials. These will be marked by your dedicated tutor and will prepare you for your exam, whilst giving you a predicted grade that you can use for your UCAS application.
You are required to complete two standard written exams:
Paper 1: 3 hour written exam, 50% of total marks – 23 May 2024
Paper 2: 3 hour written exam, 50% of total marks – 3 June 2024
(all dates are subject to change)
There is a separate fee for the examinations, which are paid directly to the exam centre at time of booking. We'll help you book your exams when you are ready (we advise to book well in advance to guarantee your place).
Please note: the dates shown above are the next available exam dates only (exams take place yearly).
Required Knowledge
There are no entry requirements for this course.
Support
With up to 2 years available to complete this course; upon your enrolment you will receive a comprehensive study guide, course materials and a personal tutor who will be available to lend advice and their support (via email) throughout your studies.
Our dedicated student support team will also always be on hand to answer your queries or concerns so you never have to struggle or feel alone in your studies. No matter your question, we are always happy to help.
Frequently Asked Questions
Happy learners who completed this course
A Level Accounting
I thoroughly enjoyed this A Le ...
I thoroughly enjoyed this A Level which helped me gain the placement I needed. Tutor feedback was on point and always helpful if I needed guidance. Would recommend this A level accounting course anytime.
This A Level was so easy to co ...
This A Level was so easy to complete thanks to the tutors and the expert advice they provided me with. Thanks to this I will now finally have enough credits to apply to universities! Brilliant course materials, would recommend to anyone who is interested in accounting!
Why learn with us?
Trusted and regulated
Study A Levels, GCSEs, Qualifications, and Endorsed Courses
Money-back guarantee
14-day money-back guarantee (terms apply)
Flexible, simple learning
Study at your own pace in your own space, without pressure
Personal expert support
Full 1-2-1 tutor support on all courses every step of the way
Price-matched courses
We guarantee to match prices (plus 5% extra off on top)
Dedicated support
We are open 9am–10pm, 7 days a week, to help our learners
Independantly accredited
Our courses are accredited by independent awarding bodies
0% finance
Get 0% finance on many of our courses
Free business course
Free business start-up short course with every purchase