A Level Business Studies
AOL502
Are you interested in what makes a business successful? How individuals make business decisions and juggle the day-to-day management of all of the necessary tasks such as finance, planning, development, resourcing etc? This A Level is a must for individuals who are looking to advance themselves, either in the world of work, or to take a step towards University.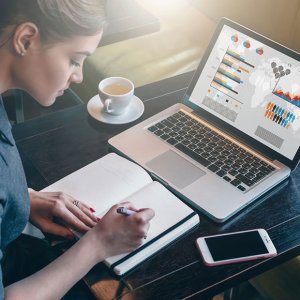 A Level Business Studies
Flexible ways to pay
A Level Business Studies
Choose enrol option
About This Course
Imagine being able to study from the comfort of your own home and still achieve the same A Level qualification you would at college. Our home learning A Level Business Studies course is designed to offer you the flexibility to study at your own pace and achieve the UCAS points you need to get on the university course of your dreams.
This exclusive 2 year course has been updated to meet the latest academic specifications, meaning you'll receive the most up to date academic content – the same content you would receive at college.
From learning how to meet customer needs, manage people and interpret the market, to raising finance, developing business objectives and strategies, and understanding globalisation; by the end of this course you'll have acquired all the tools, knowledge and resources you need to create a strong foundation within Business Studies.
More importantly, you'll gain 56 UCAS points which can be used to boost your university applications.
Course Benefits
Structured around 4 key themes, each module is designed to broaden your understanding of this niche so you can apply them within a real and academic setting.
From business consultant to management to a career in financial planning; you can take the theoretical knowledge and skills you'll acquire on this course and use them to build a quality education.
This course:
Can be tailored around prior work or social commitments, enabling you to find the perfect balance between work and study.
Is free of deadlines – you can pick and choose how you study. Your only deadline is the A Level examinations in June.
Equates to the same A Level you'd receive at college. It has simply been tailored to suit a home learning environment.
Course Units
Qualification Title: A-Level Business Studies
Qualification Number: 9BSO
UCAS Points: Up to 56
Theme 1: Marketing and People
Meeting Customer Needs
The Market
Marketing Mix and Strategy
Managing People
Entrepreneurs and Leaders
Theme 2: Managing Business Activities
Raising Finance
Financial Planning
Managing Finance
Resource Management
External Influence
Theme 3: Business Decisions and Strategy
Business Objectives and Strategies
Business Growth
Decision-Making Techniques
Influences on Business Decisions
Assessing Competitiveness
Managing Change
Theme 4: Global Business
Globalisation
Global Markets and Business Expansion
Global Marketing
Global Industries and Companies (Multi-national Corporations)
Assessment
To earn this A Level qualification you will first complete the assessments included in your course materials.  These will be marked by your dedicated tutor and will prepare you for your exam, whilst giving you a predicted grade that you can use for your UCAS application.
You are required to complete three standard written exams:
Paper 1: 2 hour written exam, 33% of total marks – 14 May 2024
Paper 2: 2 hour written exam, 33% of total marks – 21 May 2024
Paper 3: 2 hour written exam, 33% of total marks – 6 June 2024
(all dates are subject to change)
There is a separate fee for the examinations, which are paid directly to the exam centre at time of booking. We'll help you book your exams when you are ready (we advise to book well in advance to guarantee your place).
Please note: the dates shown above are the next available exam slots only (exams take place every year).
Required Knowledge
There is no requirement to have past qualifications or knowledge of the area to enrol on this course.
Awarding Body
Upon completion of this home learning course you will receive an A Level in Business Studies issued by Edexcel.
Support
Upon enrolling onto this Business Studies A Level, not only will you have 2 years to complete it but you will be provided with course materials, a comprehensive study guide and a course pack that contains self-assessment exercises and tutor marked study questions.
More importantly, you'll receive your very own personal tutor who at a click of a button will be on hand to answer your queries as you complete your course. Our student support team can also lend comprehensive advice, ensuring you never have to struggle alone with your studies.
Frequently Asked Questions
Happy learners who completed this course
A Level Business Studies
Studied this business a level ...
Studied this business a level alongside the accounting a level and haven't ended up going to university because I was offered a job. Now working up the ladder for free, with free training thanks to this course and my tutor.
Why learn with us?
Trusted and regulated
Study A Levels, GCSEs, Qualifications, and Endorsed Courses
Money-back guarantee
14-day money-back guarantee (terms apply)
Flexible, simple learning
Study at your own pace in your own space, without pressure
Personal expert support
Full 1-2-1 tutor support on all courses every step of the way
Price-matched courses
We guarantee to match prices (plus 5% extra off on top)
Dedicated support
We are open 9am–10pm, 7 days a week, to help our learners
Independantly accredited
Our courses are accredited by independent awarding bodies
0% finance
Get 0% finance on many of our courses
Free business course
Free business start-up short course with every purchase