Beauty Therapy and Massage Level 3
AOL666
The perfect follow-on to our Beauty Therapy Level 2 course or for anyone with prior experience working in the beauty field, this course will make you familiar with advanced beauty therapy and analysis techniques, as well as all the information you will need to own and manage your own salon.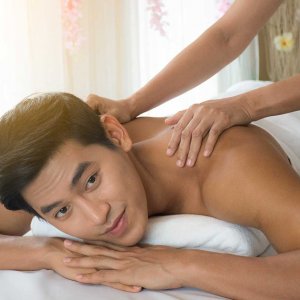 Beauty Therapy and Massage Level 3
Flexible study options
Choose a study format
Choose a way to pay
Beauty Therapy and Massage Level 3
Choose enrol option
About This Course
If you are interested in expanding your beauty skills or adding to the portfolio of your salon; then our online Beauty Therapy and Massage Level 3 course bundle can provide you with the skills, the knowledge and the resources to make these dreams happen.
In one compact homebased course you can learn everything that there is to know about becoming a beauty massage therapist, whilst acquiring an arsenal of skills that are certain to make you an asset in your job.
This homebased course covers everything. From body, face and scalp massages, to wet and dry heat treatments; in just 160 hours of study you will walk away confident in your ability to sooth the aches and pains of your clients, as well as your ability to manage a team of employees.
During this course you will:
Develop a good working knowledge of a range of different beauty therapy treatments
Study a range of massage techniques which can be tailored to work alongside/assist various therapeutic treatments
Learn how to create a safe and hygienic working environment
Develop your professional skills
Learn how to deal with client consultations and salon management
And you can achieve all of this from the comfort of your own home. No classrooms. No strict deadlines. No exams.
At a time, pace and location of your choosing, you can absorb all of these essential skills and mould this course to work around you.
This is especially helpful if work, social or family obligations are preventing you from getting back into education, as you can adapt this course to suit your needs and complete it in your on your own terms.
With this course you will also receive the following:
FREE Beauty Kit including: Emery boards, manicure sticks, hand lotion, mask brush, mask removing sponges and headband.
* Not included with the online study option
Course Benefits
With a full two years to complete this course bundle, broadening your skillset has never been easier. In one neat package you can acquire the skills to become a beauty massage therapist, as well as the theoretical knowledge to offer a range of new and exciting treatments within your salon.
From understanding the benefits of electrical treatments, to learning about skin analysis, anatomy, salon management and different types of massages; in just 160 hours of study, you will achieve a level of comprehension and competency that will enable you to climb the career ladder.
With this course, you will be able to:
Boost your career opportunities and skills portfolio
Learn on your own terms, at your own pace and from the comfort of your own home
Benefit from a stress free, convenient way to learn – no exams, no strict deadlines and no classrooms. We will send all of your course materials straight to your door or inbox
Achieve a healthy work-study balance – you can learn on your own terms without having to sacrifice on your family, work or social obligations
Enhance your existing theoretical knowledge of beauty therapy and massage
Access instant support from our personal tutors and Student Support team – help is only one click away
Course Units
Beauty Therapy Level 3
Unit 1: Health and Safety
Unit 2: Consultation and Reception Duties
Unit 3: Facial and Skincare Treatments
Unit 4: Eyelash and Eyebrow Treatments
Unit 5: Manicure and Pedicure Treatments
Unit 6: Waxing Method and Hair Removal
Unit 7: Make-up Services
Massage Level 3
Unit 1: Essential Anatomy and Physiology
Unit 2: Understanding Massage
Unit 3: Contraindications and Special Populations
Unit 4: Client Consultation
Unit 5: Massage Techniques and Components
Unit 6: Massage Positions
Assessment
This course is assessed using a series of written assignments that are designed to test your knowledge of the course syllabus. These assignments will need to be submitted to your personal tutor for marking, whereupon they will supply you with feedback.
Please Note: No external examinations are required.
Required Knowledge
No previous knowledge or experience in beauty therapy or massage is needed in order to enrol onto this course bundle, making it ideal for those first starting out in this field.
Awarding Body
Upon successful completion of this course, you will receive certification from National Institution of Qualifications (NIOQ) and a Learner Unit Summary (which details of all the units you have completed).
This course has been designed to meet the requirements of specific learners or employers. It is endorsed by National Institution of Qualifications, meaning the course has undergone external quality checks to ensure that they are maintained and delivered to an excellent standard.
National Institution of Qualifications are a national certificating organisation. Endorsement of our courses ensures learners have access to high quality materials that cover all learning outcomes, helping them to achieve their potential.
Support
From the guidance of our personal tutors whose industry experience within counselling can help to support and mentor your studies, to our comprehensive study guide and course materials; from day one we will go above and beyond to help you succeed in your studies. With twelve months tutor support, you have the option of completing in as little as three months, or using the full twelve months.
You too can take advantage of the extensive knowledge base of our personal tutors and use their experiences to get all of your questions answered. Similarly, our student support team are readily available to lend you their advice and guidance as they help you to decipher your course materials and answer your questions.
Only one click away, you can trust that help will be there when you need it.
Frequently Asked Questions
Why learn with us?
Trusted and regulated
Study A Levels, GCSEs, Qualifications, and Endorsed Courses
Money-back guarantee
14-day money-back guarantee (terms apply)
Flexible, simple learning
Study at your own pace in your own space, without pressure
Personal expert support
Full 1-2-1 tutor support on all courses every step of the way
Price-matched courses
We guarantee to match prices (plus 5% extra off on top)
Dedicated support
We are open 9am–10pm, 7 days a week, to help our learners
Independantly accredited
Our courses are accredited by independent awarding bodies
0% finance
Get 0% finance on many of our courses
Free business course
Free business start-up short course with every purchase