Basic Maths Level 2
OSC045
Have you got a good head for figures? Having an analytical brain would certainly be an advantage if you are considering undertaking the A Level Mathematics course and it could lead to much needed positions within the workplace such as a role in finance, engineering, design to name but a few. Whatever your objectives, we are here to assist you to achieve success.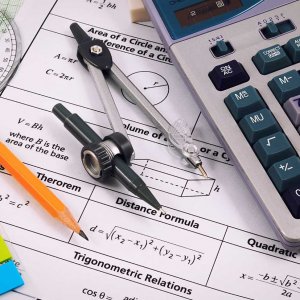 Basic Maths Level 2
Flexible ways to pay
Basic Maths Level 2
Choose enrol option
About Our Courses
Are you looking to get back on the job ladder or venture into a new career, but your maths skills are letting you down? Our Basic Maths Level 2 course can act as the perfect stepping stone to helping you get your dream job as in just 60 hours of study, you can quickly bring your maths skills up to par; impress potential employers, and make your CV looking all the more tempting.
This impressive online course covers all of the basics, helping to not only refresh your memory of multiplication, division, whole numbers, ratios, graphs and measurements, but also give you the freedom to acquire these skills on your own terms.
There is no need to go to college or enter a classroom, as we'll send all of your course materials straight to your door. This means, you can escape the pressure of college life and instead can create an environment where you will best flourish.
In fact, thanks to our Basic Maths Level 2 course being exclusively online, you can choose when, where and how you study, and do so at a pace that is right for you.
More importantly, you will be able to mold this course to fit around your current work commitments, making it possible for you to achieve a healthy work-study balance that doesn't leave you feeling stressed or tired.
Course Benefits
The perfect way to refresh your GCSE maths skills, this compact online course goes above and beyond to improve your knowledge of this subject, so you can confidently take these skills and apply them within the workplace.
We aim to make studying with us easy, so whether you choose to access your course materials through our online study platform or have them sent straight to your home; either way you can quickly harness our guides; utilise of our resources, and use our written assignments to build a foundation of knowledge that will truly broaden your career options.
With this course, you'll:
Both refresh and expand your current maths skills bringing them up to the standard expected from employers
Be able to learn on your own terms, at own pace and from the comfort of your own home – all course materials are accessible online or can be sent to your home
Benefit from a stress-free convenient way to learn – no exams, no strict deadlines, no classrooms – you can control your rate of learning
Receive instant support from our personal tutors and Student Support team for the full 12 month duration of your course – only one click away, help will always be at hand
Course Units
Unit 1: Whole Numbers
Place value (tens, hundredths, thousandths)
Multiplication
Division
Long division
Addition
Subtraction
Traditional methods
Box methods
Unit 2: Using Numbers and Calculations
Square numbers and roots
Cubic numbers and roots
Order of operations (BODMAS)
Integers
Inequalities (more than, less than signage)
Ratio
Inverse operations
Unit 3: Understanding Decimals, Fractions and Percentages
Decimals and decimal places
Decimals
Fractions
Percentages
Standard Form
Unit 4: Working with Unit 3 Skills, Probability and Measures of Central Tendency
Equivalences between decimals, fractions and percentages
Basic probability
Mean
Median
Mode
Range
Unit 5: Measurements, Graphs, Tables and Charts
Units of Time
Distance
Area
Volume
Perimeter
Speed, distance and time
Weight and mass
Temperature
Frequency charts
Bar charts
Line graphs
Scatter plots
Unit 6: Mathematical Project
Interpret findings from a questionnaire
Presentation of results
Using appropriate mathematical skills
Using skills and knowledge from the rest of the course
Assessment
This course is assessed using a series of written assignments that are designed to test your knowledge and understanding of the materials taught on the syllabus. These assignments will need to be submitted to your personal tutor for marking, whereupon they will provide you with valuable advice and feedback on how to improve your grades.
Please Note: No external examinations are required.
Required Knowledge
No previous knowledge or experience is needed in order to enrol onto this course, making it ideal for those with math skills of all levels and abilities.
Awarding Body
Upon successful completion of this course, you will receive a Certificate of Achievement by Training Qualification UK (TQUK) in Basic Maths Level 2.
This course has been designed by Open Study College to meet the specific requirements of learners' and employers'. In addition, this course has been endorsed by TQUK. This means the Open Study College have undergone extensive external quality checks to ensure that their organisation – as well as their courses – all meet a high quality standard.
It is important to note that completion of this course alone will not lead to an Ofqual regulated qualification. However, they may be used as evidence of your knowledge and skills when applying for future regulated qualifications. Similarly, the provided unit summary can be used as evidence towards your Recognition of Prior Learning, should you choose to pursue further studies within this sector.
Support
We may specialise in the provision of online and home based courses; however, at no point on your learning journey will you ever feel alone or isolated in your studies. Instead, from the moment you enrol you will receive your very own personal tutor, whose years of knowledge and experience in this field can help to inform, guide and mentor your studies.
At just a click of a button you can easily contact our tutors, seek out their advice and get the answers you crave. A the same time, you can also harness the help of our Student Support Team, who are always ready, willing and able to lend a hand as you work through your course materials. No matter the question, you can trust we will always have your best interests at heart.
Frequently Asked Questions
Why learn with us?
Trusted and regulated
Study A Levels, GCSEs, Qualifications, and Endorsed Courses
Money-back guarantee
14-day money-back guarantee (terms apply)
Flexible, simple learning
Study at your own pace in your own space, without pressure
Personal expert support
Full 1-2-1 tutor support on all courses every step of the way
Price-matched courses
We guarantee to match prices (plus 5% extra off on top)
Dedicated support
We are open 9am–10pm, 7 days a week, to help our learners
Independantly accredited
Our courses are accredited by independent awarding bodies
0% finance
Get 0% finance on many of our courses
Free business course
Free business start-up short course with every purchase