Team Leading Level 3
AOL160
This home based Level 3 course has been exclusively designed to help broaden your knowledge on different leadership styles, so you can find the right one for you.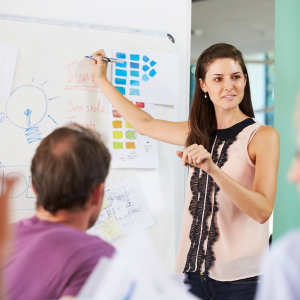 Team Leading Level 3
Flexible study options
Choose a study format
Choose a way to pay
Team Leading Level 3
Choose enrol option
About Our Course
Ever wondered what it would take to fast track your career and work your way up to a managerial position? Our Team Leading Level 3 course can equip you with the leadership skills to successfully manage a team and boost productivity in the work place.
This home based course has been exclusively designed to help broaden your knowledge on different leadership styles, so you can find the right one for you.
Over the course of 80 hours you will learn how to: recognise the characteristics of successful leaders; interpret role expectations; effectively communicate and build a strong team dynamic, AND reinforce a positive culture during changes within the business.
In other words, you will gain real and transferable skills that will prove to your employers that you are more than ready to take on extra responsibilities; lead a team and proactively work for the betterment of the business.
This incredible course can make a valuable addition to your list of qualifications as it can supply you with the knowledge, the understanding and the confidence to make yourself seen and heard.
And this is great news, if you are looking to climb the career ladder, as you can achieve all of this from the comfort of your own home. This course has been specially designed for home study, making it possible for you to study on your own terms.
With no classes to attend, you can study at a time, place and location of your choosing, and learn at a pace that is right for you. More importantly, you can fit this course around your current obligations and achieve a healthy work-study balance.
Course Benefits
Split into 6 units, this informative course can help you to lay down the ground work for progressing your career and taking a leading role within the workplace. From expanding your knowledge and comprehension on team leading and the styles/responsibilities involved, to showing you how to effectively engage with your team in order to achieve optimum results; by the end of this course you will be able to take these transferable skills and use them to make your mark.
At the same time, our written assignments will give you ample opportunities to take this theoretical knowledge and test them within potential scenarios.
This course will:
Provide you with the perfect stepping stone to working your way up the ladder and achieving a managerial position.
Allow you to study on your own terms – all of our course materials will be sent straight to your home, giving you the freedom to start your studies when you are ready.
Enable you to study at a pace that is right for you – no strict deadlines, no examinations…
Supply you with the skills, the comprehension and the competency to take on leadership roles and make a positive impact on your office environment.
Course Units
Unit 1: Introduction to Team Leading
Unit 2: Communication when Leading
Unit 3: Harnessing your Leadership Skills
Unit 4: Differences in People and Teams
Unit 5: Building Relationships with Colleagues
Unit 6: Good Practice, Equality and Diversity
Assessment
This course is assessed using a series of written assignments that are designed to test your knowledge of the course syllabus. These will need to be submitted to your tutor for marking, whereupon they will supply you with valuable feedback and advice. No external examinations are required.
Required Knowledge
No previous knowledge or experience is needed in order to enrol onto this course making it ideal for those looking to climb the career ladder and take a more active role in the workplace.
Awarding Body
Upon successful completion of this course, you will receive certification from National Institution of Qualifications (NIOQ) and a Learner Unit Summary (which details of all the units you have completed).
This course has been designed to meet the requirements of specific learners or employers. It is endorsed by National Institution of Qualifications, meaning the course has undergone external quality checks to ensure that they are maintained and delivered to an excellent standard.
National Institution of Qualifications are a national certificating organisation. Endorsement of our courses ensures learners have access to high quality materials that cover all learning outcomes, helping them to achieve their potential.
Support
Upon enrolment, you will be given access to  your comprehensive study materials, and will be assigned your very own personal tutor who will provide you with support.
Our student support team can also handle any other queries you may have whilst completing your course, meaning you never have to struggle or feel isolated in your studies. Instead, our team will always be on hand to help throughout the full 12-month duration of your course (you are able to complete earlier than 12 months).
Frequently Asked Questions
Why learn with us?
Trusted and regulated
Study A Levels, GCSEs, Qualifications, and Endorsed Courses
Money-back guarantee
14-day money-back guarantee (terms apply)
Flexible, simple learning
Study at your own pace in your own space, without pressure
Personal expert support
Full 1-2-1 tutor support on all courses every step of the way
Price-matched courses
We guarantee to match prices (plus 5% extra off on top)
Dedicated support
We are open 9am–10pm, 7 days a week, to help our learners
Independantly accredited
Our courses are accredited by independent awarding bodies
0% finance
Get 0% finance on many of our courses
Free business course
Free business start-up short course with every purchase