ICB Certificate in Bookkeeping and Accounts Level 3
OSC200
Interested in developing your numeracy skills or entering into a career in bookkeeping? Our ICB Certificate in Bookkeeping and Accounts Level 3 is the perfect course to get you started.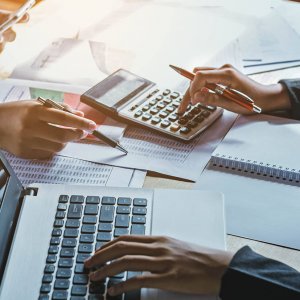 ICB Certificate in Bookkeeping and Accounts Level 3
Flexible study options
Choose a study format
Choose a way to pay
ICB Certificate in Bookkeeping and Accounts Level 3
Choose enrol option
About This Course
Interested in developing your numeracy skills or entering into a career in bookkeeping? Our ICB Certificate in Bookkeeping and Accounts Level 3 is the perfect course to get you started.
Not only will this home based course help you to gain the knowledge and the skills to become a fully qualified bookkeeper; you'll also be offered the opportunity to learn everything there is to know about producing final accounts for sole traders, partnerships and not for profit organisations – both manually and using computerised systems.
And this is great news for businesses wishing to handle their own bookkeeping and accounts, as this course will enable you to deal with it all yourself. No accountants. No outsourcing. You'll be able your own boss.
This unique course has been purposefully designed for home study, so even if you have got a business to manage; you can still enrol onto this course and fit it easily around your existing commitments.
In fact, you can study when, where and how you want, and do it all from the comfort of your own home – how fast you choose to study is up to you.
From understanding the theoretical knowledge and principles of bookkeeping, to reconciling financial statements and VAT returns; by the end of this one year course you will gain Associate member status with the ICB and will confidently be able to work as a self-employed or employed bookkeeper.
Please Note: upon enrolment onto this course, you will gain FREE access to Sage software that will enable you to practice and gain real bookkeeping skills.
Your course materials will alert you to the right time to install this software. Once installed, you will have 6 months to complete the computerised section of the course.
Course Benefits
Every element of this course is designed to enhance your numeracy skills and leave you in a position to independently handle your own bookkeeping and accounts. The fact that you can walk away with an Associate member status with the ICB and the letter AICB after your name, means this course can add a real edge to your qualifications and CV.
With every unit that you complete, you will achieve a deeper understanding and comprehension of bookkeeping. More importantly, you will earn real and transferable skills that can be directly applied into your work and future positions.
This course will:
Test your theoretical knowledge and competency, providing ample opportunities to test your new bookkeeping skills within a practical setting.
Allow you to study at your own pace, in your own time and from the comfort of your own home – all course materials will be sent straight to you.
Enable you to earn an internationally recognised qualification.
Help you to jumpstart your career and potentially work as a freelance bookkeeper.
You will also receive: ICB 1-year Annual Subscription and Registration fee worth £78.00 (it can take up to 6 weeks to process the registration)
Course Units
ICB Level 3 Certificate in Bookkeeping and Accounts
Unit 1: Underpinning Knowledge
Understand the importance of adhering to a code of ethical principles
Understand when and how to take appropriate action to cope with unethical behaviour
Understand the legal differences between the structures of various types of businesses
Understand the main accounting concepts that apply
Understand the various accounting standards that are applied to the production of year-end accounts
Understand the different VAT schemes that are available for use
Understand the importance of being able to clearly communicate relevant information
Understand the requirements for uploads to HMRC under making tax digital (as and when introduced)
Unit 2: Reconciliation of accounts and correction of errors
Reconcile debtors and creditors control accounts
Write off a bad debt
Correct errors in the accounts
Unit 3: VAT Returns
Reconcile the VAT account
Complete a VAT return
Unit 4: Calculate and Post Adjustments to the Accounts
Account for the disposal of fixed assets
Understand the need to allow for, and be able to post, adjustments to the accounts
Provide for revaluation of assets
Unit 5: Produce Draft Final Accounts for Internal Management Purposes
Prepare a set of final accounts suitable for internal management purposes
Calculate and post relevant amounts to appropriate profits as required
Adjust capital share of partners
Unit 6: Interpretation of Financial Statements
Understand the importance of interpreting financial statements for internal management purposes
Analyse and interpret financial statements
Prepare a cash budget
Assessment
Assessment for this course is based on two sections, where you will be expected to demonstrate your understanding and comprehension of the course materials. They are as follows:
Section 1: For this section, you will be expected to complete three online tests that can be done at home or at work. These tests will assess your ability to handle various reconciliation processes, as well as deal with the production of final accounts for non-incorporated business and not-for-profit organisations (in both a manual and a computerised system).
Section 2: For this section, you will need to complete an exam at an approved ICB test centre. Here, your knowledge of the whole syllabus will be tested, including topics from level 2.
Required Knowledge
Before enrolling onto this course you will be expected to have successfully completed and achieved a qualification in ICB Level 2 Certificate in Bookkeeping, or its equivalent from another awarding body.
Awarding Body
This bookkeeping course comes with two options:
You can study this course for personal interest and development – meaning you don't have to take any exams. Instead, you will be expected to complete tutor marked assessments that will earn you a completion certificate.
You can complete the whole course, taking all of the necessary ICB examinations as well as doing the tutor marked assessments. Successful completion of these examinations will earn you an official ICB Level 3 Certificate in Bookkeeping and Accounts.
Note: your ICB exams will need to be booked by yourself and will come with a small additional charge that is separate from the course fee. This will be payable to the ICB and your chosen assessment centre. For a list of approved centres, speak to our student support team.
Support
At every opportunity, we aim to supply our students with continuous support and guidance so that they never feel isolated or alone in their studies. From sending comprehensive study guides and course materials to your home, to providing you with countless hours of support from our personal tutors; every step of the way you will receive valuable advice, guidance and instruction.
Our personal tutors are experts in their field and are always on hand to lend you their support and supply you with years of expertise and experience. Similarly, our student support team are readily available to answer your queries and give you the highest standard of advice. Just one click away, help is always at hand.
Frequently Asked Questions
Why learn with us?
Trusted and regulated
Study A Levels, GCSEs, Qualifications, and Endorsed Courses
Money-back guarantee
14-day money-back guarantee (terms apply)
Flexible, simple learning
Study at your own pace in your own space, without pressure
Personal expert support
Full 1-2-1 tutor support on all courses every step of the way
Price-matched courses
We guarantee to match prices (plus 5% extra off on top)
Dedicated support
We are open 9am–10pm, 7 days a week, to help our learners
Independantly accredited
Our courses are accredited by independent awarding bodies
0% finance
Get 0% finance on many of our courses
Free business course
Free business start-up short course with every purchase