Tourism Management Level 3
AOL599
Does the idea of working within tourism and helping customers to reach their dream destination leave you feeling inspired? With a forecasted 250,000 additional jobs expected to be supported by tourism in the next 10 years, making your mark in this industry could prove beneficial to your future career prospects.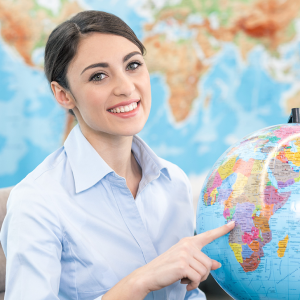 Tourism Management Level 3
Flexible study options
Choose a study format
Choose a way to pay
Tourism Management Level 3
Choose enrol option
About This Course
In just 1 year – and 80 hours of study – you can discover why tourism is one of the largest and most important industries in the UK, as well as gain a glimpse into the various roles managers within tourism can undertake. Airports, airlines, transport companies, travel agencies, hotels, visitor attractions, sports, recreation, large venues and stadiums… you can dip your feet into a range of careers and build an impressive work portfolio.
The fact that you will walk away with valuable management and marketing skills – as well as a detailed picture and history of the tourism industry – will make you a respected and cherished member of any business. Your work options will be endless…
And the fantastic news is – you can achieve all of this from the comfort of your own home.
Our Tourism Management Level 3 course has been exclusively designed for distance learning, meaning you can enrol onto this course and complete it at a time, pace and location of your choosing. There is no need to attend any classes, as all of your course materials will be sent straight to your home!
Course Benefits
Split into 6 units, every element of this course is designed to expand your knowledge and understanding of Tourism, so you can confidently lead a team and ensure maximum satisfaction for customers.
From planning for tourism, to understanding customer transport; you will be able to take the skills you'll have gained from this course and use them to effectively manage tourist attractions, develop strategies and manage teams of all shapes, sizes and strengths.
This course will:
Develop your knowledge and comprehension of management; their responsibilities and marketing techniques.
Allow you to study on your own terms – no classes, no examinations, no strict deadlines – you can learn at a pace that is right for you.
Help you achieve a healthy work-study balance – you can mould your studies to fit around your current work obligations.
Give you a full year to complete your studies from the comfort of your own home – taking on average 80 hours to complete, you'll have plenty of time to learn and absorb the syllabus.
Course Units
Unit 1: Introduction to the Tourism Industry
What is tourism?
History of tourism
Mass tourism
Threats to tourism
Tourism trends
Unit 2: Planning for Tourism
Tourism and the UK economy
Public sector
Regional development agencies
Local government
Planning
Feasibility studies
Unit 3: Passenger Transport
Trains
Cars
Coaches
Cruise ships
Passenger ferries
Air transport
Types of airlines
Deregulation
Airline infrastructure
Environmental impacts of airlines
Unit 4: Responsible Tourism
What is responsible tourism?
Types of responsible tourism
The impacts of tourism
Tourism development planning
Unit 5: The Management of Visitor Attractions
The importance of visitor attractions
Types of visitor attractions
What makes a visitor attraction appealing?
Visitor satisfaction
Types of visits
Design and technology
Ownership of visitor attractions
Funding visitor attractions
Why is the public sector important?
Unit 6: Tourism Marketing
Creating a tourism strategy
Identifying the tourist product
Market research
Market segmentation
The marketing mix
How to evaluate a product
Assessment
This course is assessed using a series of written assignments that are designed to test your knowledge of the course syllabus. These will need to be submitted to your personal tutor for marking, whereupon they will supply you with valuable advice and feedback. No external examinations are required.
Required Knowledge
No previous knowledge or experience in tourism management is needed in order to enrol on this course, making it ideal for those seeking a career change within this lucrative and expanding industry.
Awarding Body
This course is endorsed by the Quality Licence Scheme (QLS). QLS endorses high-quality, non-regulated provision and training programmes. This means that the course has undergone external quality checks by the awarding body to ensure it meets a high standard.
The learning outcomes of the course have been benchmarked at Level 3 against level descriptors published by Ofqual, to indicate the depth of study and level of demand/complexity involved in successful completion by the learner.
Support
We take pride in our ability to support our students throughout their studies. From our comprehensive study guides and course materials, to the expertise of our personal tutors; you can harness years of industry experience and use it to inform, build and strengthen your learning experience.
Our personal tutors are experts in their field, meaning they can effectively mentor your studies and provide you with quality advice, guidance and instruction. Our Student Support Team are similarly ready, able and willing to lend you their support as you work your way through your studies. No matter the question you can trust that our team will go above and beyond to get you the answer.
Frequently Asked Questions
Why learn with us?
Trusted and regulated
Study A Levels, GCSEs, Qualifications, and Endorsed Courses
Money-back guarantee
14-day money-back guarantee (terms apply)
Flexible, simple learning
Study at your own pace in your own space, without pressure
Personal expert support
Full 1-2-1 tutor support on all courses every step of the way
Price-matched courses
We guarantee to match prices (plus 5% extra off on top)
Dedicated support
We are open 9am–10pm, 7 days a week, to help our learners
Independantly accredited
Our courses are accredited by independent awarding bodies
0% finance
Get 0% finance on many of our courses
Free business course
Free business start-up short course with every purchase