Nutrition Consulting Diploma Level 3
AOL941
On our Nutrition Consulting course you'll learn why diet and nutrition are the essential building blocks of a healthy lifestyle. Study the science behind how diet affects body health, and how it can be used to facilitate weight loss and gain. This course also covers how to start your own business as nutrition and diet consultant, at a time where the importance of a balanced diet has never been more accepted and understood.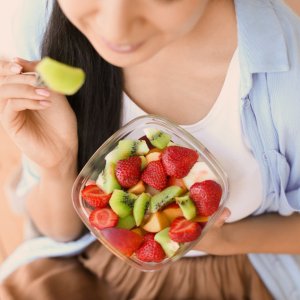 Nutrition Consulting Diploma Level 3
Flexible ways to pay
Nutrition Consulting Diploma Level 3
Choose enrol option
About This Course
Busy lifestyles and evolving food technology has led to a fundamental change in eating habits over the past 100 years. The adoption of unhealthy eating habits, and more people eating food that has little nutritional value, has led to mass scale and a rise in obesity and other related health conditions.
A recent study by the UK government found that 28% of adults in England are obese and a further 36% are overweight, an alarming statistic which both highlights the issue and explains the current demand for help and support in this area.
If you are passionate about helping shape people into more healthy lifestyles, then this course would be a perfect choice for you.
During this level 3 Nutrition Consulting Diploma, you will study nutrition and eating habits, and how they can aid healthy weight loss or gain, and improve metabolism and the immune system. You'll study food science concepts in detail, which will give you the foundations on which to base your own consultancy business, should you wish to follow this rewarding career path further..
Course Benefits
Split into 7 units, every element of this course seeks to expand your understanding of nutrition and healthy eating, so you can achieve the theoretical knowledge you need to apply these skills within real and practical settings.
This course will:
Help you to develop a strong foundation of knowledge and competency that can be transferred into your work and career.
Enable you to study on your own terms – no classrooms, no strict deadlines and no exams.
Allow you to study from home – all course materials will be sent straight to your door, enabling you to fit your studies around your obligations.
Course Units
Unit 1: Introduction to Nutrition and Diet

What is nutrition?
What is a nutrition consultant?
The Nutrition Society
Diet and its components
Dietary value
Macronutrients & micronutrients
Unit 2: Weight and Nutrition
What is weight management?
Weight gain
Weight loss
Maintaining a healthy weight
Unit 3: The Role of Fluids
Hydration, dehydration and overhydration
Unit 4: Veganism vs Carnivore
Veganism
The Carnivore Diet
Unit 5: Health Problems and Eating Disorders
Nutrition and related health conditions
Eating disorders
Unit 6: Creating a Diet Plan
Dietary Assessment
Creating a Diet Plan
Unit 7: Gaining Clients
Setting up your Nutrition Consultant Business
Marketing your nutrition consulting business
Assessment
This course is assessed using a series of written assignments that are designed to test your knowledge of the course materials. These will need to be sent to your personal tutor for marking, whereupon they will supply you with helpful tips and feedback. No external examinations are required.
Required Knowledge
No prior knowledge or skills is needed in order to enrol onto this course, making it ideal for those just starting out in this career field.
Awarding Body
Upon successful completion of this course, you will receive certification from National Institution of Qualifications (NIOQ) and a Learner Unit Summary (which details of all the units you have completed).
This course has been designed to meet the requirements of specific learners or employers. It is endorsed by National Institution of Qualifications, meaning the course has undergone external quality checks to ensure that they are maintained and delivered to an excellent standard.
National Institution of Qualifications are a national certificating organisation. Endorsement of our courses ensures learners have access to high quality materials that cover all learning outcomes, helping them to achieve their potential.
Support
From the guidance of our personal tutors, whose expert experience within the healthy eating industry will enrich your studies, to our comprehensive course materials; from day one we will go above and beyond to help you succeed in your studies. With twelve months tutor support, you have the option of completing in as little as three months, or using the full twelve months.
You too can take advantage of the extensive knowledge base of our personal tutors and use their experiences to get all of your questions answered. Our friendly student support team are available to offer support and answer your questions.
Only one click away, you can trust that help will be there when you need it.
Frequently Asked Questions
Why learn with us?
Trusted and regulated
Study A Levels, GCSEs, Qualifications, and Endorsed Courses
Money-back guarantee
14-day money-back guarantee (terms apply)
Flexible, simple learning
Study at your own pace in your own space, without pressure
Personal expert support
Full 1-2-1 tutor support on all courses every step of the way
Price-matched courses
We guarantee to match prices (plus 5% extra off on top)
Dedicated support
We are open 9am–10pm, 7 days a week, to help our learners
Independantly accredited
Our courses are accredited by independent awarding bodies
0% finance
Get 0% finance on many of our courses
Free business course
Free business start-up short course with every purchase