Principles of Nursing Practice Level 3
AOL157
This course combines out certifications for Nursing and Social Care, enabling you to apply not only basic nursing principles but also to understand the social care needs of your patients, and how that can best be met within the British healthcare system. Perfect for social workers, paramedics and carers.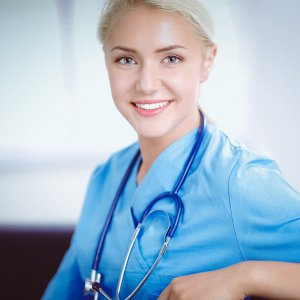 Principles of Nursing Practice Level 3
Flexible study options
Choose a study format
Choose a way to pay
Principles of Nursing Practice Level 3
Choose enrol option
About This Course
Are you a natural carer or interested in establishing a career working in health and social care? Our Principles of Nursing Practice course can help you to develop your understanding of this rewarding career field so you can make an informed decision on where you want to take your career next.
This impressive course covers everything you need to know about nursing practice, yet comes with the advantage of allowing you to study it all from the comfort of your own home.
No classes. No strict deadlines. No stress.
You can study this course when, where and how you want, and do it at a pace of your choosing. And this is great news if you are stepping back into education or are unable to attend classes due to work commitments; as not only will we send all your course materials to your home, you'll also be able to mould this course around your existing commitments.
By the end of it you will have achieved a level of understanding that will truly enhance your future study or career choices.
During this course, you will learn:
How to apply basic nursing principles to practical contexts.
The core values and standards associated with basic nursing practice and care delivery.
How to investigate the psychological and social aspects of nursing practice and care delivery.
About the range of settings in which social care takes place, as well as the various roles and types of work available within the healthcare system.
The universal principles of care and the various careers it links to including: social workers, nurses, health visitors, carers and paramedics.
More about communication skills and safeguarding procedures, which are necessary to work safely and professionally within the social care system
Course Benefits
This course is the perfect stepping-stone for those wishing to explore a career within nursing, as it can provide you with a solid foundation of theoretical knowledge and transferrable skills which can be used to further your pursuit of work in this field.
Designed to explore every element of these two fascinating fields; by the end of this course you will achieve a level of competency and confidence that will make a real difference to your career choices.
This course will:
Challenge your knowledge and perceptions of nursing practice, care delivery and social work.
Enable you to achieve a healthy work-study balance – you can study this course from the comfort of your own home, on your own terms and at a pace of your choosing.
Expand your career options.
Boost your credentials.
Offer you a convenient and stress-free way to study – all course materials will be delivered straight to your home.
Course Units
Nursing Practice Level 3
Unit 1: Introduction to Principles of Nursing
Nursing Theories
Professional Standards
Duty of Care
Ethical Principles
Accountability and Delegation
Delegation Principles
The NHS Constitution for England
Training and Development
Unit 2: Anatomy and Physiology
Cells and their role in the body
Homeostasis
Elements of Cells
Blood Characteristics and Functions
Lymphatic System Function
Immune Function
The Endocrine System and Hormones
Cardiovascular & Respiratory Systems
Digestive & Urinary Systems
Unit 3: Developing Effective Communication
Communication and Professional Relationships
Positive & Negative Communications
Challenging Situations
Characteristics of Effective Communication
Communication Methods
Barriers to Effective Communication
Clarifying Misunderstanding
Unit 4: Understanding the Psychological needs of each Patient
Psychological Needs in Nursing
Recognising Distress
Advantages of Psychological Intervention
Qualities of Psychological Care
Reflection
Skills in Psychological Care
Psychological Assessment Skills
Psychological Interventions
Barriers to Psychological Care
Involving Patients in Psychological Care
Unit 5: Core Skills Part 1
Procedure for taking a pulse, temperature & checking blood pressure
Breathing rates
Urinalysis
Blood Glucose Monitoring
Unit 6: Core Skills Part 2
Key priorities
Delivery of personal care
Respecting the principles of confidentiality
Handling Information in Nursing
Assessment and Reporting
Assessment
This course is assessed using a series of written assignments that are designed to test your knowledge of the course syllabus. These will need to be submitted to your personal tutor for marking, whereby they will supply you with valuable tips and feedback.
Required Knowledge
No prior knowledge or experience is needed to enrol onto this course.
Awarding Body
Upon successful completion of this course, you will receive certification from National Institution of Qualifications (NIOQ).
This course has been designed to meet the requirements of specific learners or employers. It is endorsed by National Institution of Qualifications, meaning the course has undergone external quality checks to ensure that they are maintained and delivered to an excellent standard.
National Institution of Qualifications are a national certificating organisation. Endorsement of our courses ensures learners have access to high quality materials that cover all learning outcomes, helping them to achieve their potential.
Support
Whilst we may specialise in the provision of home-based courses, we take pride in ensuring that all our students are supported at every opportunity. From our comprehensive course materials, to the continuous support of our personal experts; you can harness years of industry advice, instruction and guidance as they work to enhance your grades.
Our student support team is similarly accessible at a click of a button and will always be on hand to answer your queries or concerns. No matter the size of your question, you will never be alone in your studies.
Frequently Asked Questions
Why learn with us?
Trusted and regulated
Study A Levels, GCSEs, Qualifications, and Endorsed Courses
Money-back guarantee
14-day money-back guarantee (terms apply)
Flexible, simple learning
Study at your own pace in your own space, without pressure
Personal expert support
Full 1-2-1 tutor support on all courses every step of the way
Price-matched courses
We guarantee to match prices (plus 5% extra off on top)
Dedicated support
We are open 9am–10pm, 7 days a week, to help our learners
Independantly accredited
Our courses are accredited by independent awarding bodies
0% finance
Get 0% finance on many of our courses
Free business course
Free business start-up short course with every purchase