NCFE CACHE Level 2 Award in Awareness of End of Life Care
OSC066
The care sector is desperate for trained, sensitive end of life care specialists at the moment, and this course is an amazing way to gain these skills in your spare time, around your existing schedule. This NCFE CACHE Level 2 certification could be just what you need to supercharge your career.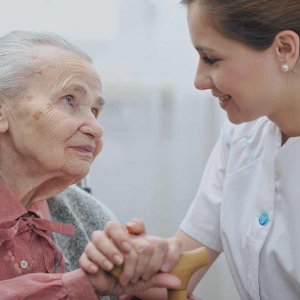 NCFE CACHE Level 2 Award in Awareness of End of Life Care
Flexible ways to pay
NCFE CACHE Level 2 Award in Awareness of End of Life Care
Choose enrol option
About This Course
Working in the care sector can be an incredibly rewarding and humbling experience. Within this field you get to assist with the day-to-day care of those in desperate need of a helping hand, whilst providing them with the loving support and kindness they deserve.
From working in a hospice or care home, to supplying primary care within a community; you can take the knowledge you'll acquire on this course and kick start your studies towards an inspiring career.
In fact, with this new NCFE CACHE Level 2 course you can achieve a deeper understanding and awareness of what is involved in end of life care, so you can create an emotionally comforting and reassuring environment for those coming to the end of their lives.
You will learn about the factors that can affect a person's view on death and dying, and will be able to recognise the potential barriers an individual may face when accessing end of life care.
At the same time, you'll be shown how to respond to difficult questions and will be able to construct answers that will bring peace of mind to all.
So if you're interested in developing your skills within this area, then why not enrol onto this course and use it to further your vocational training and placement opportunities. By the end you'll achieve an impressive Level 2 qualification that can give your career the boost it deserves.
Course Benefits
With only 28 hours of learning involved, you can easily complete the assignments assigned to this course and achieve a qualification that can make a notable difference to your career opportunities.
By broadening your knowledge, understanding and comprehension on death; principles of end of life care, and methods of communication; you can take the tools you have learned on this course and use them effectively in the workplace.
With this course:
You can study at a time, pace and location of your choosing – all we ask is that you complete it within 12 months of registering.
You can balance your studies with your current work/life commitments, without having to sacrifice on the two.
Course Units
Unit 1 (A/503/8085, Unit Level 2; GLH; 28; Credits 3): Understand How to Work in End of Life Care – know different perspective on death and dying; understand the aims, principles and policies of end of life care; understand factors regarding communication in end of life care; know how to access the range of support services available to individuals and others; identify the potential barriers an individual may face when accessing end of life care, and define local and national policy guidance for care after death.
Assessment
This course is assessed using a series of assignments which you'll need to submit to your personal tutor for marking. Each of these assignments is designed to test your knowledge of the course materials, and their application within a working environment.
There are no written examinations or tests, so you can easily complete all of the assessed work from the comfort of your own home and at your own pace.
Required Knowledge
No prior knowledge or experience is required to enrol onto this course; however you must be at least 16 years old. Similarly, you don't need to be working within health or social care.
Awarding Body
Upon completion of this course you will receive a Level 2 Award in the Awareness of End of Life Care on The Regulated Qualifications Framework (RQF) for England, Wales and Northern Ireland.
NCFE CACHE is the UK's only specialist awarding organisation for the children and adult care sectors. They offer the most up-to-date and relevant qualifications for the new RQF, and regularly work with Sector Skills Council to ensure that high quality and cutting edge services are supplied to their customers, learners and the sector itself.
Support
From the moment you enrol onto this course, you will receive the support and council of our personal tutors and student support team, who will always be available to answer your queries, questions or concerns.
No question is too big or too small. Instead at a click of a button you can harness their knowledge and use their expertise to boost your learning experience.
Frequently Asked Questions
Why learn with us?
Trusted and regulated
Study A Levels, GCSEs, Qualifications, and Endorsed Courses
Money-back guarantee
14-day money-back guarantee (terms apply)
Flexible, simple learning
Study at your own pace in your own space, without pressure
Personal expert support
Full 1-2-1 tutor support on all courses every step of the way
Price-matched courses
We guarantee to match prices (plus 5% extra off on top)
Dedicated support
We are open 9am–10pm, 7 days a week, to help our learners
Independantly accredited
Our courses are accredited by independent awarding bodies
0% finance
Get 0% finance on many of our courses
Free business course
Free business start-up short course with every purchase