NCFE CACHE Level 3 Certificate in Preparing to Work in Adult Social Care
AOL624
The perfect follow-on to our Level 2 course in Preparing to Work in Adult Social Care, or those with practical experience in this setting who wish to have their skills recognised with a career-changing Level 3 Certification. This course is typically completed in one year, arranged around your existing schedule.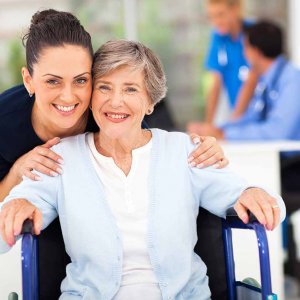 NCFE CACHE Level 3 Certificate in Preparing to Work in Adult Social Care
Flexible study options
Choose a study format
Choose a way to pay
NCFE CACHE Level 3 Certificate in Preparing to Work in Adult Social Care
Choose enrol option
About This Course
If you have a natural interest in caring for people and want to know what it takes to build a credible career working as an adult social care worker, then our CACHE Level 3 Certificate in Preparing to Work in Adult Social Care can help you to bring this passion to life.
You too can discover how to communicate with older adults in your care and improve their environment and personal development, so you can use this newly acquired knowledge to jump start your career.
No prior experience or knowledge is required. Instead you can harness your desire to nurture and assist others, and from the comfort of your own home earn a nationally recognised qualification.
This unique course has been specially tailored for home study, enabling you to balance your work commitments and studies with ease; without any of the pressure of deadlines or exams.
And this is great news if you are just taking your first steps back into education as you can easily mould this course around your obligations and study at pace, time and location of your choosing. You can study on YOUR own terms!
All it takes is 12 months and 190 hours of learning time, and by the end of this course you'll confidently understand the role of social care workers (and their duties), and have a thorough comprehension on: health and safety legislation, safeguarding, person-centred approaches, and duty of care.
Course Benefits
Every unit on this course is designed to enrich your knowledge of this field and supply you with transferrable skills that can make a credible difference to your career choices. Aside from developing your understanding and competency in adult social care, communication and information handling; you can also take this theoretical knowledge and apply it to a practical setting.
This course will:
Challenge your understanding of social care and its requirements
Develop your existing nurturing and care capabilities
Enable you to study at a pace of your choosing – free of exams and stress
Allow you to study from the comfort of your own home
Explore the role of the social care worker and define their duties
Help you to understand the health and safety legislations that are put in place for people in social care
Course Units
Qualification Title: NCFE CACHE Level 3 Certificate in Preparing to Work in Adult Social Care
Qualification Number: 600/0048/X
Total Credits: 21
Principles of communication in adult social care settings
(R/602/2906, Unit Level 3; GLH; 17 Hours; Credits: 2)
Communication
Relationships
Comparing ways to communicate
Communication methods
Responding
People from different backgrounds
Barriers
Strategies
Support services
Team confidentially
Day to day communication
Potential tension
Seek advice
Principles of personal development in adult social care settings
(R/602/3036, Unit Level 3; GLH; 19 Hours; Credits: 2)
Reflective practice
Improving the quality of service provided
Standards
Values, belief systems and experiences
Feedback
Personal development plan
Sources of support
Roles of others
Benefits of a personal development plan
Principles of diversity, equality and inclusion in adult social care settings
(M/602/3044, Unit Level 3; GLH; 19 Hours; Credits: 2)
Discrimination
Promoting equality
Supporting diversity
Key legislation
Codes of practice
Consequences
Beliefs, culture values and preferences
Inclusive practice and practice
Challenging discrimination
Raising awareness
Supporting others
Unit 4 – Principles of safeguarding and protection in health and social care
(A/601/8574, Unit Level 2; GLH; 26 hours; Credits 3)
Physical abuse
Sexual abuse
Emotional/psychological abuse
Financial abuse
Institutional abuse
Self-neglect
Neglect by others
Signs and symptoms
Factors for vulnerability
Actions to take
Policies and local systems
Safeguarding
Person-centred values
Active participation
Unsafe practices
Principles for implementing duty of care in health, social care or children's and young people's settings
(R/601/1436, Unit Level 3; GLH; 5 Hours; Credits: 1)
Duty of care
Safeguarding
Potential conflicts
Manage risks
Additional support and advice
Complaints
Agreed procedures for handling complaints
Unit 6 – Understand the role of the social care worker
(A/602/3113, Unit Level 2; GLH; 9 Hours; Credits: 1)
Working relationships
Personal relationships
Agreed ways of working
Working in partnership
Resolving conflicts
Accessing support and advice
Unit 7 – Understand person-centred approaches in adult social care settings
(R/602/3182, Unit Level 3; GLH; 37 Hours; Credits: 4)
Person-centred approaches
Values
Care plan
Complex and sensitive situation
Individual's changing needs or preferences
Consent
Active participation
Holistic needs
Approaches to support
Influencing individual's choices
Self-image
Self- esteem
Risk assessment
Unit 8 – Understand health and safety in social care settings
(L/602/3178, Unit Level 3; GLH; 49 Hours; Credits: 5)
Health and safety
Policies and procedures
Training
Additional support
Risk assessment
Accidents and sudden illness
Procedures
First aiders
Hygiene prevention methods
Personal protective equipment
Safe moving and handling protects
Not following a care plan
Hazardous substances
Environmental safety
Emergency plan
Managing stress
Handling medication
Food safely
Unit 9 – Understand how to handle information in social care settings
(D/602/3119, Unit Level 3; GLH; 9 Hours; Credits: 1)
Legislation and codes
Handling information
Up to date records
Storing information
Security
Supporting others
Assessment
This distance learning course is assessed using a portfolio of written assignments and evidence. Once submitted to your tutor, they will review your work and provide you with valuable, honest feedback.
No external examinations are required, although you will need to conduct your own research whilst completing your coursework.
Required Knowledge
No prior knowledge or experience is required to enrol onto this course. As this is a knowledge based course, you don't need to already be working in a care role. All we ask, is that you are at least 16 years old.
Awarding Body
Upon successful completion of this course you will receive a Level 3 Certificate in Preparing to Work in Adult Social Care. This means that you will achieve a Level 3 qualification on The Regulated Qualifications Framework (RQF) for England, Wales and Northern Ireland.
NCFE CACHE is the UK's only specialist awarding organisation for the children and adult care sectors.
They offer the most up-to-date and relevant qualifications for the new RQF, and work with Sector Skills Councils to ensure high quality and cutting edge service is supplied to their customers, learners and the sector itself.
Support
From the guidance of your personal tutor, whose industry experience will help to support and mentor your studies, to our comprehensive study guide and course materials; from day one we will go above and beyond to help you succeed in your studies. With twelve months tutor support, you have the option of completing in as little as three months, or using the full twelve months.
You too can take advantage of the extensive knowledge base of your personal tutor and use their experiences to get all of your questions answered. Similarly, our student support team are readily available to lend you their advice and guidance as they help you to decipher your course materials and answer your questions. The delivery and assessment of this course will be provided by OLC.
Only one click away, you can trust that help will be there when you need it.
Frequently Asked Questions
Why learn with us?
Trusted and regulated
Study A Levels, GCSEs, Qualifications, and Endorsed Courses
Money-back guarantee
14-day money-back guarantee (terms apply)
Flexible, simple learning
Study at your own pace in your own space, without pressure
Personal expert support
Full 1-2-1 tutor support on all courses every step of the way
Price-matched courses
We guarantee to match prices (plus 5% extra off on top)
Dedicated support
We are open 9am–10pm, 7 days a week, to help our learners
Independantly accredited
Our courses are accredited by independent awarding bodies
0% finance
Get 0% finance on many of our courses
Free business course
Free business start-up short course with every purchase