Cognitive Behavioural Therapy Level 4
AOL379
Learn how to deliver cognitive behavioural therapy without leaving home!
If you're a counsellor interested in learning more about incorporating CBT into your practice, our Cognitive Behavioural Therapy Level 4 online course could be ideal for you.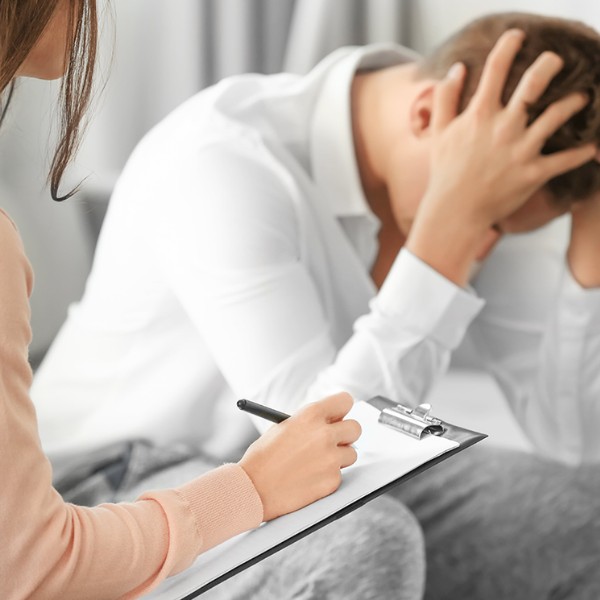 Cognitive Behavioural Therapy Level 4
Flexible ways to pay
Cognitive Behavioural Therapy Level 4
Choose enrol option
About This Course
Our Cognitive Behavioural Therapy Level 4 online course can help you tap into the full potential of CBT. The National Institute for Clinical Excellence recognises CBT as an effective treatment for a wide range of mental health issues.
This all-inclusive course examines CBT's foundational ideas in detail, with an eye towards diagnosing causes rather than merely treating symptoms. Learn about several cognitive strategies for overcoming emotional difficulties and making a good change in outlook.
Explore memory models, execute pre-planned behavioural tests, and learn the triadic framework of CBT and more.
Our knowledgeable tutors will be there for you every step of the way.
With flexible learning, study at your own pace and submit coursework through post or email and study whenever is convenient for you.
Elevate your knowledge of CBT and pave the way for fulfilling careers as a Counsellor, CBT therapist, Intervention specialist, and beyond.
Course Benefits
Split into 6 units, every element of this course seeks to expand your understanding of CBT, so you can achieve the theoretical knowledge you need to apply these skills within real and practical settings.
This course will:
Help you to develop a strong foundation of knowledge and competency that can be transferred into your work.
Enable you to study on your own terms – no classrooms, no strict deadlines and no exams.
Allow you to study from home – all course materials will be sent straight to your door, enabling you to fit your studies around your obligations.
Course Units
Unit 1: Review of CBT Skills and Theory
Aims of CBT
Basic Cognitive Principles
The Triadic Structure of CBT
The Therapeutic Relationship
CBT Delivery
CBT Assessment
Core Skills
Unit 2: Case Conceptualisation and Measurement
Describing Problems
Past History
Formulation
Measurement
The Socratic Method
The Client as Therapist
Models of Memory
Unit 3: Physical Techniques and Behavioural Experiments
Behaviour Experiments
Discussion about Methods
Planned Behavioural Experiments
Physical Techniques
Unit 4: Depression and Anxiety Disorders: Models and Protocols
Depression
Therapeutic Considerations
Suicidal Thoughts
Anxiety
Obsessive Compulsive Disorder (OCD)
Post-Traumatic Stress Disorder (PTSD)
Panic Disorder
Phobias
Unit 5: Wider Developments in CBT Practice
Eating Disorders
Trauma
Anger
Psychosis
Relationships
Substance Misuse
Common Core Themes
Alternative Methods of Delivery
Group CBT
Schemata
Compassion-based CBT
Mindfulness-based CBT
Group Work
Unit 6: Evaluating CBT Practice
Why Evaluate CBT?
Using Statistics
Questionnaires
Evaluation of Services
Supervision
Assessment
This course is assessed using a series of written assignments that are designed to test your knowledge of the course materials. These will need to be sent to your personal tutor for marking, whereupon they will supply you with helpful tips and feedback. No external examinations are required.
Required Knowledge
No prior knowledge or skills in this area are needed in order to enrol onto this course, making it ideal for those just starting out in this career field.
Awarding Body
Upon successful completion of this course, you will receive certification from National Institution of Qualifications (NIOQ) and a Learner Unit Summary (which details of all the units you have completed).
This course has been designed to meet the requirements of specific learners or employers. It is endorsed by National Institution of Qualifications, meaning the course has undergone external quality checks to ensure that they are maintained and delivered to an excellent standard.
National Institution of Qualifications are a national certificating organisation. Endorsement of our courses ensures learners have access to high quality materials that cover all learning outcomes, helping them to achieve their potential.
Support
From the guidance of our personal tutors whose industry experience will help to support and mentor your studies, to our comprehensive study guide and course materials; from day one we will go above and beyond to help you succeed in your studies. With twelve months tutor support, you have the option of completing in as little as three months, or using the full twelve months.
You too can take advantage of the extensive knowledge base of our personal tutors and use their experiences to get all of your questions answered. Similarly, our student support team are readily available to lend you their advice and guidance as they help you to decipher your course materials and answer your questions.
Only one click away, you can trust that help will be there when you need it.
Frequently Asked Questions
Why learn with us?
Trusted and regulated
Study A Levels, GCSEs, Qualifications, and Endorsed Courses
Money-back guarantee
14-day money-back guarantee (terms apply)
Flexible, simple learning
Study at your own pace in your own space, without pressure
Personal expert support
Full 1-2-1 tutor support on all courses every step of the way
Price-matched courses
We guarantee to match prices (plus 5% extra off on top)
Dedicated support
We are open 9am–10pm, 7 days a week, to help our learners
Independantly accredited
Our courses are accredited by independent awarding bodies
0% finance
Get 0% finance on many of our courses
Free business course
Free business start-up short course with every purchase