Business Management and Change Management Level 3 Bundle
OSC062
Do you dream of starting your own business; being your own boss and bringing your entrepreneurial ambitions to life, but struggle to know where to start or how to make your ideas a reality? You are not alone. Fortunately, our Starting Your Own Business Level 3 course, can provide you with everything you need to get started. This impressive course has been exclusively designed for home study.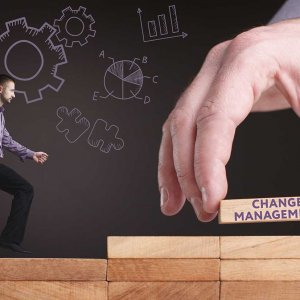 Business Management and Change Management Level 3 Bundle
Flexible study options
Choose a study format
Choose a way to pay
Business Management and Change Management Level 3 Bundle
Choose enrol option
About Our Course
Are you a business owner looking to improve your management skills? Or is your business struggling to handle external changes? Our Business Management and Change Management Level 3 course bundle can provide you with the tools, the knowledge and the resources to effectively manage a team; positively engage with change, and recognise the different ways change can affect a person.
This fascinating homebased course covers all of the bases.
From showing you how to understand change and the best ways to help people with different personalities/characteristics (so they can contribute positivity to change), to learning how to plan, manage and change a project; by the end of this two year course, you will recognise the difference between change and transitions, and will be able to confidently introduce/lead your team through any significant changes that your business may face.
At the same time, you will:
Be shown how to explore change within today's organisations
Be able to apply personality profiling to your staff, making it easier for you to identify different personality types, and tailor the way you implement change so everyone reacts positively
Be able to explain why some people experience change differently to others
And you can achieve all of this from the comfort of your own home! No classes. No exams. No strict deadlines.
You can explore this homebased course on your own terms, and experience minimal impact to your work, family or social obligations. In fact, you can easily mould this flexible course to work around you, enabling you to study as fast or as slow as you want.
No matter your study preferences, YOU will be in control of how you learn – no one else.
Course Benefits
With a whole two years available to complete this bundle; boosting your career opportunities has never been easier. Instead at a time, pace and location of your choosing you can take this theoretical knowledge, apply it to your business and ensure that you, your team and your organisation are fully prepared to handle change.
This course offers a healthy balance of knowledge and skills that will enable you to effectively manage a team; create plans, and deal with external changes.
At the same time, thanks to its written assignments, you will be able to take this newly acquired knowledge – on personality profiling, strategies and systems – and use them to demonstrate its effectiveness within hypothetical scenarios.
With this course you'll:
Achieve a better understanding of the best ways to manage a team, improve business performance and initiate/handle change
Be able to learn at a time, pace and location of your choosing – we will send all of your course materials straight to your door or inbox
Be able to achieve a healthy-work study balance with minimal impact to your work, family or social obligations
Develop a higher level of comprehension and competency on the impact change can have on your business
Be able to boost your career opportunities and climb the business ladder
Have access to an instant support network – you can take advantage of our personal tutors and Student Support Team at a click of a button
Course Units
Business Management Level 3:
Unit 1: You as a Manager
Managers as people
Feedback
Delegating
Average managers and great managers
Listening
Developing your staff
Coaching
Unit 2: Strategy, Structure and Systems
Managing in context
Strategy
Structure
Systems
Financial Systems
Performance and development review
Unit 3: Managing Teams
Holding meetings
Developing Effective Transactions
Ineffective Transactions
Stages of Team Development
Performing
Unit 4: Managing Performance
Expectations
Measures
Outcomes
Keeping Performance Records
Unit 5: Setting Goals
SMART Goals
Achieving Balance
Motivations
Considerations when goal-setting
Learning from Experience
Unit 6: Leadership and Politics
Leadership and Management
Four Styles of Leadership
Leadership and Politics
Dealing with Conflict
How to Make Collaboration Work
Leadership Influences on Management
Change Management Level 3:
Unit 1: Change in today's organisations
External changes
75 model
Planning organisational change
3 change management models
Unit 2: Change and transitions
Change and transition
Transition curve
Real change experiences
Unit 3: Personality and change
Personality profiling
People and change
Support strategies
4 stages of change
Unit 4: Leading through change
Characters and personality
Organisational politics
Core values
Leading change
Unit 5: Managing a change project
Planning
Objectives and strategies
5 stage change
Implementation
Monitoring
Reporting
Evaluating
Unit 6: The role of training and development in successful change management
Training and development
Development programmes
Gap analysis
MUSIC
Learning diamond
Assessment
This course is assessed using a series of written assignments that are designed to test your knowledge of the course syllabus. These will need to be submitted to your personal tutor, whereupon they will provide you with a mark and valuable tips on how to improve your work.
Please Note: No external examinations are required.
Required Knowledge
No previous knowledge, skills or experience in business management is needed in order to enrol onto this course.
Awarding Body
This course is endorsed by the Quality Licence Scheme (QLS). QLS endorses high-quality, non-regulated provision and training programmes. This means that the course has undergone external quality checks by the awarding body to ensure it meets a high standard.
The learner unit summary may be used as evidence towards recognition of prior learning if you wish to progress your studies in this subject. To this end the learning outcomes of the course have been benchmarked at Level 3 against level descriptors published by Ofqual, to indicate the depth of study and level of demand/complexity involved in successful completion by the learner.
Support
Whilst we may specialise in the provision of online and home based courses; at no point on your learning journey will you ever have to feel alone or isolated in your studies. Instead, from moment you enrol you can trust that you will be surrounded by a network of support that will go above and beyond to enhance your learning experience.
From our comprehensive course guides, course materials and resources, to our dedicated personal tutors; for the full duration of this two year course bundle you can benefit from the advice, guidance and expertise of individuals who are specialists in their field. Individuals who are readily available to lend you their industry knowledge, so you can achieve maximum results.
Our Student Support Team are similarly highly trained and – at a click of a button – will readily answer your questions; eliminate your concerns, and help you to decipher our course materials.
Frequently Asked Questions
Why learn with us?
Trusted and regulated
Study A Levels, GCSEs, Qualifications, and Endorsed Courses
Money-back guarantee
14-day money-back guarantee (terms apply)
Flexible, simple learning
Study at your own pace in your own space, without pressure
Personal expert support
Full 1-2-1 tutor support on all courses every step of the way
Price-matched courses
We guarantee to match prices (plus 5% extra off on top)
Dedicated support
We are open 9am–10pm, 7 days a week, to help our learners
Independantly accredited
Our courses are accredited by independent awarding bodies
0% finance
Get 0% finance on many of our courses
Free business course
Free business start-up short course with every purchase