Anger and Aggression Management Level 3
AOL142
Whether your interest in this subject stems from your need to understand your own anger issues, or you are simply considering a career working as a therapist; every element of our Anger and Aggression Management Level 3 course can help to develop your understanding of aggressive behaviour so you know how to effectively handle it.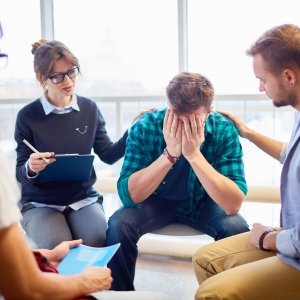 Anger and Aggression Management Level 3
Flexible study options
Choose a study format
Choose a way to pay
Anger and Aggression Management Level 3
Choose enrol option
About This Course
Whether your interest in this subject stems from your need to understand your own anger issues, or you are simply considering a career working as a therapist; every element of our Anger and Aggression Management Level 3 course can help to develop your understanding of aggressive behaviour so you know how to effectively handle it.
From learning how to define, explain and evaluate theories of aggression, to exploring the possible causes and physical/psychological consequences of anger; in just 12 months you'll be better equipped to engage with those in need of anger management whilst being able to offer them genuine advice and help.
This course covers everything:
The definitions and explanations surrounding stress, worry and anxiety
The effects of challenging behaviour
A deeper understanding of the risks of violence and aggression – and its impact on others
How to interpret aspects of body language
Strategies for preventing or controlling the risk
Different types of treatment and support
And the good news is – you can learn all of this from the comfort of your own home! No classes and no exams.
This unique online course has been exclusively designed for home study, meaning you can easily shape this course to fit around your current work commitments, whilst also benefiting from the freedom of being able to explore this subject at a time, pace and location of your choosing.
You can remain in full control of how you learn. So whether you prefer to study fast, slow, in the morning or late at the night; you can easily adapt our course to suit your study preferences and achieve a healthy work-study balance.
Course Benefits
Comprised of 6 informative units, every aspect of this course aims to broaden your knowledge of anger and aggression management so you can walk away with real and transferable skills.
By providing you with the tools to understand triggers – and the best techniques for treating/preventing them – you can achieve a level of competency that can make huge difference to your career progression.
With this course you'll be able to:
Increase your career opportunities within the world of counselling and therapy
Enhance your existing theoretical knowledge of anger management and techniques for assisting patients
Learn on your own terms, at your own pace and from the comfort of your own home
Receive instant access to our personal tutors and Student Support Team for 12 whole months
Mould your studies to suit your work needs – allowing you to achieve a healthy work-study balance
Benefit from a stress-free learning environment – no exams, no deadlines, no classrooms…
Course Units
Unit 1: Forms of anger and aggression
Defining Anger, Aggression & Violence
The Physiology of Anger
Different Forms of Anger & Aggression
The Causes of Anger and Aggressive Behaviour
Genetics and Biology
Aggression as an Instinctual Emotion
Social Learning Theory
Environmental, Psychological and Physiological Factors Contributing Towards Anger and Aggression
Unit 2: Emotions that impact anger and aggression
How Anger is Different to other Emotions
Anger as a Secondary Emotion
Emotions that Cause Anger and Aggression
Perception and Perspective in Situations
The Connection between Anxiety and Anger
The Physical & Psychological Effects of Anxiety
Anxiety Disorders
Factors which Influence Anxiety
The Difference Between Stress and Anxiety
How Anxiety and Anger can be Managed
Unit 3: Identifying and understanding risk factors
Legal Requirements for Managing Risk
Common types of Violent and Abusive Behaviours
Risk: Factors & Management
Risk Assessments in Organisations and the Workplace
Unit 4: Dealing with challenging behaviour
Types & Causes of Challenging Behaviour
Plan of Provision for Individuals with Challenging Behaviour?
Approaches for Dealing with Challenging Behaviour
Strategies for Managing Challenging Behaviour in Schools
Strategies for Managing Challenging Behaviour in Social Care
Unit 5: The impact on family life
When Anger Becomes a Problem in the Home
Different Ways that Anger Might be Expressed in the Home
Impact of Anger and Aggression on Family Life
How Families can Reduce and Manage Anger and Aggression
Benefits of Engaging in Therapy as Part of Anger Management
Effective Ways to Build a Positive Family Climate
Unit 6: Treating and supporting those with anger issues
Key Factors that Influence Treatment
Anger as a Symptom of Mental Health
The Role of Medication in Treating Anger and Aggression
The Role of Therapy
Anger Management Courses
Relaxation-Based Techniques to Treat Anger and Aggression
Lifestyle Choices and Anger
How to Support Adults and Children with Anger and Aggression
Assessment
This course is assessed using a series of written assignments that are designed to test your knowledge of the topics taught on the course syllabus.
These will need to be submitted to your tutor for marking, whereupon they will provide you with valuable advice and feedback.
Please Note: No external examinations are required.
Required Knowledge
No previous knowledge, skills and experience in anger and aggression management is needed in order to enrol onto this course; making it ideal for those seeking guidance on how to handle their own issues (or those of their family), or for individuals considering a career as a therapist or counsellor.
Awarding Body
Upon successful completion of this course, you will receive certification from National Institution of Qualifications (NIOQ) and a Learner Unit Summary (which details of all the units you have completed).
This course has been designed to meet the requirements of specific learners or employers. It is endorsed by National Institution of Qualifications, meaning the course has undergone external quality checks to ensure that they are maintained and delivered to an excellent standard.
National Institution of Qualifications are a national certificating organisation. Endorsement of our courses ensures learners have access to high quality materials that cover all learning outcomes, helping them to achieve their potential.
Support
From the moment you enrol onto this 12 month course you will gain immediate access to the advice, support and guidance of our personal tutors, whose years of expertise can help to influence and inform your studies.
From helping you to decipher our course materials, to improving your understanding of the syllabus; you can trust that our personal tutors will always be on hand to answer your questions.
Our Student Support Team can similarly help to maximise your learning experience and ensure that you get the most out of this course. Accessible at just a click of the button, you never have to feel alone or isolated in your studies.
Frequently Asked Questions
Why learn with us?
Trusted and regulated
Study A Levels, GCSEs, Qualifications, and Endorsed Courses
Money-back guarantee
14-day money-back guarantee (terms apply)
Flexible, simple learning
Study at your own pace in your own space, without pressure
Personal expert support
Full 1-2-1 tutor support on all courses every step of the way
Price-matched courses
We guarantee to match prices (plus 5% extra off on top)
Dedicated support
We are open 9am–10pm, 7 days a week, to help our learners
Independantly accredited
Our courses are accredited by independent awarding bodies
0% finance
Get 0% finance on many of our courses
Free business course
Free business start-up short course with every purchase