Higher Level Teaching Assistant Level 4
AOL186
This course will give you the skills you need to properly support your students, and to achieve your own career goals. This well-respected Level 4 HLTA course can dramatically expand your potential and your potential salary as a teaching assistant, or even to make the jump to full 'teacher' status.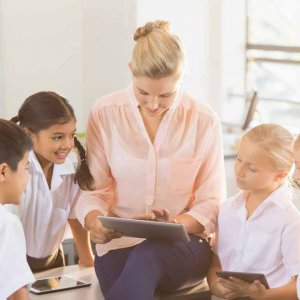 Higher Level Teaching Assistant Level 4
Flexible ways to pay
Higher Level Teaching Assistant Level 4
Choose enrol option
About This Course
What if you could progress your school support career, develop your skills AND improve your earning potential – would you do it?
Our online Level 4 Higher-Level Teaching Assistant course has been designed for those who have a passion for working with children and wish to progress to the next level, and enable you to move beyond your current Teaching Assistant role.
And the good news is – you can complete this at your own pace, in your own time and from the comfort of your own home!
Our course is designed to provide you with the knowledge, the skills and the training to address challenges within the workplace and enhance your understanding of how to effectively support your students.
From one-to-ones, to small groups to supporting students with a variety of additional needs; by the end of this course you will feel confident in your ability to support, guide and influence the minds of those you teach, so you can take greater responsibility in the classroom.
Course Benefits
Comprised of 5 in-depth units, our course covers everything you need to achieve success within a Higher-Level Teaching Assistant Role. From child development and welfare to promoting positive behaviour in the classroom; this course is a fantastic asset to your CV and the working relationships you establish with teachers.
This course is also designed to complement your existing practical work, by supplying you with the theoretical knowledge to expand on your current skills and take on greater responsibilities in your role. It will also give you the opportunity to explore elements of your job that you've previously not been involved in.
This course will:
Enable you to combat workplace challenges by developing your knowledge, understanding and skills.
Broaden your knowledge on how to support individuals, small groups and those with additional needs.
Increase your responsibility levels within the classroom by enabling you to assist the teacher with lesson planning, creating support materials and managing other support staff.
Enable you to work with teachers to raise teaching standards within the school as well as ensure students are able to reach their true potential.
Boost your earning potential and salary grade.
More importantly, you can experience the joys of working within a wholly satisfying and rewarding career.
Course Units
Unit 1: Communication and Positive Relationships
Unit 2: Curriculum, Planning and Assessment of Students
Unit 3: Child Development Stages
Unit 4: Personal Professional Development
Unit 5: Equality, Diversity and Inclusion
Assessment
Our course takes on average 180 hours to finish and is assessed based on a series of written assignments and questions (requiring descriptive answers) that will test your course knowledge on a unit by unit basis. Within these assignments, you will need to be able to demonstrate your knowledge to your personal tutor, as well as be able to reflect on your practice when applied within the workplace.
The good news is – you can start our online course at any time – making it ideal for those wishing to combine their studies with their existing job commitments. All we ask is that you complete these units within a year of your registration.
Required Knowledge
There are no requirements to have completed any courses to be able to enrol on this course – you do not have to be employed as a Teaching Assistant either.
Awarding Body
Upon successful completion of this course, you will receive certification from Training Qualifications UK (TQUK) and a Learner Unit Summary (which details of all the units you have completed).This course has been designed to meet the requirements of specific learners or employers. It is endorsed by Training Qualifications UK, meaning the course has undergone external quality checks to ensure that they are maintained and delivered to an excellent standard.
Training Qualifications UK are a national certificating organisation. Endorsement of our courses ensures learners have access to high quality materials that cover all learning outcomes, helping them to achieve their potential.
Support
You will receive the Higher Level Teaching Assistant course assignments and a comprehensive study guide, alongside your very own personal tutor who can provide you with endless support.
Our student support team can also handle any other queries you may have whilst completing your course, meaning you never have to struggle or feel isolated in your studies. Instead, our team will always be on hand to help throughout the full 12-month duration of your course (should you choose to study for that long).
Frequently Asked Questions
Course enquiry
Happy learners who completed this course
Higher Level Teaching Assistant Level 4
It wasn't my idea to study at ...
It wasn't my idea to study at home.. it was actually a gift for christmas last year. I decided to give it a go and started the course mid January. Throughout the course I have had nothing but a good experience, with my tutor providing timely feedback and the support team being very he...lpful. 10/10 for me, once I have finished the course I will hopefully be taking on another.
Isabel Edwards
Excellent!! Anyone wishing to ...
Excellent!! Anyone wishing to further their studies from home would greatly recommend. Support is fast and my tutor was extremely helpful. I have just completed the course about and I can now further my career! Thank you Association of Learning
Brenda Elliott
Distance learning is such a gr ...
Distance learning is such a great way of studying and gaining qualifications without going to college. All qualifications are recognised. Came across some computer issues at first but after a quick call to the support team they put me on the right track! Would definitely do another co...urse.
Patrick Wright
Absolutely cannot fault the tu ...
Absolutely cannot fault the tutor support so far throughout my course. The course content and modules are incredibly detailed and I am enjoying getting back into learning. I will definitely be embarking on a new courses after this one!
Katie Ellen
It was a fantastic course. I g ...
It was a fantastic course. I got enough material to understand about the module and gave me more time to work on my assessments and do more research and read extra. I like to work and study on my own and within my own time so this course was perfect to balance the other things in my l...ife. And as I am that kind of person who likes to do research on specific topics this course helped me to so. I was also happy with the quick feedback that my tutor gave me so I knew what I needed to add or remove. I would definitely recommend this course.
Anna
This course was very intriguin ...
This course was very intriguing and I had to give it a shot. 7 months of hard work and dedication I am pleased to say that I have passed every unit and I look forward to getting my certificate.
Kaela Foulkes
I found the course very intere ...
I found the course very interesting and written in easy to understand language. The support I received from my tutor was positive and constructive points raised, I received my feedback in a timely fashion and this kept me focused and motivated. My experience of using Association of Le...arning has been very positive and I will definitely be back for more at some point in the future.
Bevove Owen
I cannot stress to you how muc ...
I cannot stress to you how much this course has helped me with becoming an HLTA! The course knowledge is so in depth and with a help readily available from AOLs tutors you never need to worry about struggling if you're stuck just send them a quick email and you receive an almost inst...ant reply. I'm now looking at doing my next course with AOL so I can work with children with special needs.
Amy Chester
Fantastic course! I have loved ...
Fantastic course! I have loved every moment of it, super informative and I have learnt a lot. It has increased both my knowledge and experience in working as a HLTA and I now have the certificate to back up my experience. The tutor feedback I received was delightfully informative and ...effective. Very good support both from support team and tutor. I thank you once again, the association of learning team.
Erica Davies
Helped me move forward with my ...
Helped me move forward with my career, great course for me and gave me flexibility to work at my own pace. Support staff helped a lot and so did my tutor. 5/5 from me.
Leah
The course is laid out perfect ...
The course is laid out perfectly it's so easy to follow and understand, The assistance from the Association of Learning support team is excellent helping with anything you ask and giving good overall support and guidance.
Ella Cradle
I did the Teaching Assistant l ...
I did the Teaching Assistant level 3 course and really liked it so I have decided to do the higher level 4 one and I am so glad I did because I have gained so much more knowledge. Extremely satisfied with the content of the course and with the support I received from my tutor.
Cherie Atkins
Why learn with us?
Trusted and regulated
Study A Levels, GCSEs, Qualifications, and Endorsed Courses
Money-back guarantee
14-day money-back guarantee (terms apply)
Flexible, simple learning
Study at your own pace in your own space, without pressure
Personal expert support
Full 1-2-1 tutor support on all courses every step of the way
Price-matched courses
We guarantee to match prices (plus 5% extra off on top)
Dedicated support
We are open 9am–10pm, 7 days a week, to help our learners
Independantly accredited
Our courses are accredited by independent awarding bodies
0% finance
Get 0% finance on many of our courses
Free business course
Free business start-up short course with every purchase